The Goldtones In Concert (The Cultural Center Theater- Port Charlotte)
* The Goldtones In Concert.
Just "learned" from Mrs. Jeff Eats that her cousin Priscilla and her husband Lou (who live in Port Charlotte) heard that I loved The Goldtones and that they were treating us to tickets to see…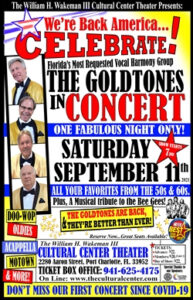 For a minute or so, I couldn't figure-out how Priscilla and Lou knew that I was a big Goldtones' fan and then- it hit me, Priscilla and Lou must be Jeff Eats' readers!
Music/Events/Other
The Goldtones (Seminole Casino Immokalee- Immokalee)
Posted on April 22nd, 2016 · Music/Events/Other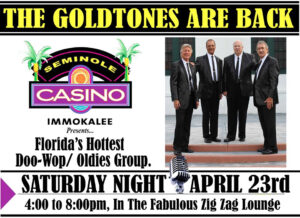 * The Goldtones.
These guys are one of the best doo wop/50s/60s vocal groups currently working the Southwest/Southeast Florida circuit!
Look at The Goldtones this way, while you're watching their complimentary show- you won't be in the casino losing your hard earned money!
————
Long story short, you burglars out there now know that Jeff Eats and Mrs. Jeff Eats won't be home in Boca Raton starting around 10am on 9/10- until around 10pm on 9/12/21.
From app.arts-people.com/index.php?actions=4&p=2
The Cultural Center Theater Presents:
The GOLDTONES
Saturday, September 11th @7pm
Florida's most requested vocal harmony group
are coming back to the Cultural Center. This will be their first major concert since the Covid Pandemic, and they're better than ever!
Voted the "Best Stage Show" for 2020, The Goldtones will perform all your favorite songs from
the 50s, 60s & 70s.
Lots of New songs, plus a special musical tribute to
one of America's Favorite Groups…The Bee Gees.
You'll laugh, You'll sing along. you'll have a fabulous night of fun entertainment. You deserve a night out…Order early for best seat selection.
Ticket prices:
$20 for CC Members (limit 2)
$22 for non CC members
$22 day of the show no discounts given.