Milo's Lemonade (Walmart Supercenter- Delray Beach)
***** Milo's Lemonade.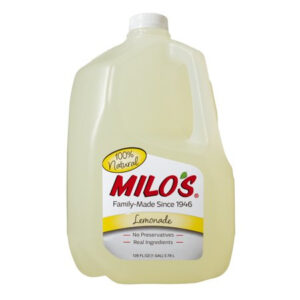 Ingredients: Filtered water, pure cane sugar, fresh lemon juice from concentrate and natural flavors.
Short tale- yesterday afternoon Jeff Eats came across Milo's Lemonade (1 gallon) at – the Walmart Supercenter, 16205 South Military Trail, Delray Beach, Florida 33484- and figured for $2.97 I'd take a shot! Hey come on!- this gallon of lemonade – costs less than a gallon of gas!
Definitely not the best lemonade I've had- to my taste, imagine if you took a gallon of water, squeezed 3-maybe 4 drops of lemon juice into the water and then threw in 3-maybe 4 teaspoons of sugar… suffice it to say, virtually tasteless!
For you guys who like to make your own decisions- you can check drinkmilos.com for product info/retail outlets.