DISH OF THE WEEK (Sunday- 8/8/21- Aunt D's Diner- Stuart)
***** DISH OF THE WEEK (Sunday- 8/8/21- Aunt D's Diner).
One of Jeff Eats' favorite menu items…
FRENCH DIP
($13.99- Slow Roasted Roast Beef on a Hoagie Roll & Au Ju/ served with choice of daily side)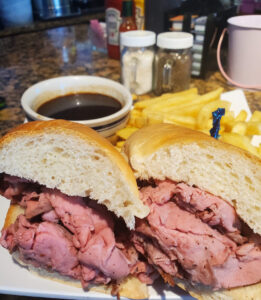 Aunt D's Diner –
2891 SE Ocean Boulevard
Stuart
(772) 324-8183
auntdsdiner.com
(772) 324-8183
Latest Review: 5/25/18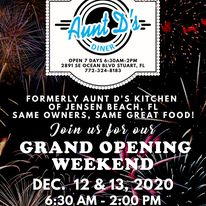 Since December, 2020- New name, New location (give or take a 15 minute drive from former Jensen Beach location), New phone number, New website, Similar 50's decor, Same owners, Same food!
Open 7 days a week 6:30am-2:00pm.
Posted on May 25th, 2018
***** Aunt D's Kitchen, 1129 Northeast Jensen Beach Boulevard, Jensen Beach, Florida 34957, (772) 225-1337.
Got a real good "mom & pop" or maybe I should- say "aunt & uncle" diner for you guys to checkout- Aunt D's Kitchen in Jensen Beach.
Simple concept at work here…breakfast/lunch, counter/table seating, 50's decor, menu loaded with breakfast stuff/ sandwiches/ burgers/ salads/ daily specials, good food, reasonable prices.
Jeff Eats and Mrs. Jeff Eats did a recent breakfast at Aunt D's Kitchen and I gotta tell you- nothing fancy schmancy going on here- just real solid food, pleasant service, the constantly topped-off coffee cups and- Daughter Jeff Eats and Son Jeff Eats not being there- made for a really enjoyable 40 minute drama-free outing!
I don't know about you guys- but, Jeff Eats any day of the week- would rather eat in an independently owned "mom & pop" diner rather than a large chain operation like IHOP or Perkins! Mind you, there is nothing wrong with the IHOPs and Perkins of the world- call me sentimental or whatever- but in my book, joints like Aunt D's Kitchen are what America is all about! Hey! For crying out loud, Memorial Day is this coming Monday!😛
Aunt D's Kitchen is open Monday-Saturday 6:30am-2pm, Sunday 6:30am-1pm.
You can check menu/prices/info at auntdskitchen.com.