Kiss Alive: The Ultimate Tribute (Lake Park Black Box- Lake Park) & Camilli's Pizza (Lake Park)
Originally posted on July 20th, 2021.
* Kiss Alive: The Ultimate Tribute.
Just picked-up 2 tickets…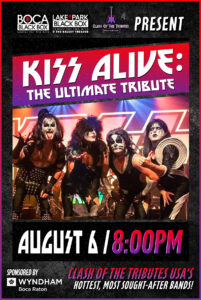 KISS ALIVE: THE ULTIMTE TRIBUTE
Friday, August 6, 2021
8:00 PM
Lake Park Black Box
700 Park Ave
Lake Park, Florida 33403
Phone: 561.328.7481
Tickets: lakeparkblackbox.com also check goldstar.com for discount tickets
Saturday, August 6th, 2021 (8pm)
From lakeparkblackbox.com
KISS ALIVE THE TRIBUTE @ Lake Park Black Box
So many of us all grew up with the music of KISS. KISS posters on our bedroom walls, fantasizing, playing air guitar and drums with KISS records blasting and parents demanding "Turn it down". What initially started off as a tribute to only the music, (no makeup, no costumes, no bells or whistles) has, after 12 yrs evolved into the SE USA premier KISS Tribute.The compliment we cherish the most is when someone comes up and says something like….."Man, I saw KISS back in 1975-78, and you guys brought me back to when I saw them as a teenager. Thank you for the time machine show". Believe me, WE have just as much (if not MORE) fun than the people that come to see us.
By the way, before the "show'- Jeff Eats and Mrs. Jeff Eats are gonna do dinner at Camilli's Pizza in Lake Park.
Trust Jeff Eats when I tell you, REAL GOOD!
Posted on October 25th, 2011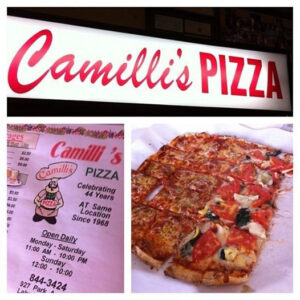 ***** Camilli's Pizza, 927 Park Avenue, Lake Park, Florida 33403, (561) 844-3424.
Here's an early birthday present for you guys…Camilli's Pizza in Lake Park. The joint makes one of the best thin crusted-sweet sauce pizzas going. Absolutely nothing fancy here, order/pickup at counter…Camilli's also has salads, subs and pastas—but the game here is PIZZA. From what I understand, the joint has been around for something like 40 years and has an enormous-multi generational-fan base. Just for the record, in addition to the pizza I "did" a meatball sub and chicken parm sub—let's call them real-good, but not even close to being in the same league as the pizza!
Like all terrific hole-in-the-wall pizza joints, its open 7 days a week for lunch/ dinner/ takeout.