DISH OF THE WEEK (Sunday- 7/18/21- Yogi Berra Forever Stamp)
***** DISH OF THE WEEK (Sunday- 7/18/21- Yogi Berra Forever Stamp).
One of Jeff Eats' favorite menu items….
YOGI BERRA FOREVER STAMP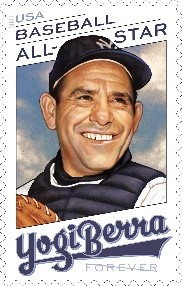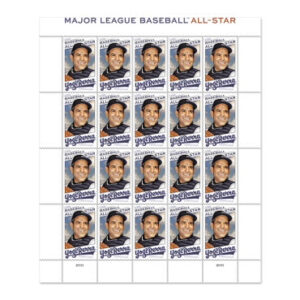 (55 cents)
Time to remember what America is all about…
By the way, today's $.55 stamp cost $.02 back in 1925 when Yogi was born. I wonder what Yogi would have to say about that, if he was with us today!
From about.usps.com
June 24, 2021
Postal Service Honors Yankees Legend Yogi Berra With Forever Stamp
All-Star Baseball Player Yogi Berra Forever Stamp
LITTLE FALLS, NJ — The U.S. Postal Service issued the Yogi Berra stamp today. This Forever stamp was dedicated during a ceremony at the Yogi Berra Museum & Learning Center in Little Falls, NJ, and is now being sold at Post Office locations nationwide and online at usps.com/yogiberrastamp.
News about the stamp is being shared on social media using the hashtags #YogiBerraStamp and #BaseballStamps. Followers of the Postal Service's Facebook and Twitter pages can view the ceremony live on facebook.com/USPS and twitter.com/usps. An additional video will be posted two hours after the ceremony providing more information and insights in telling the story of the stamp subject.
"We hope this stamp will serve as a reminder of Yogi's larger than life personality — both on and off the field," said Ron A. Bloom, chairman, U.S. Postal Service Board of Governors.
Bloom was joined for the ceremony by Bob Costas, Emmy Award-winning sportscaster; and Larry, Tim and Dale Berra, sons of Yogi Berra. The ceremony can be viewed on the Postal Service Facebook and Twitter pages.
"The Berra family wishes to thank the U.S. Postal Service for honoring our father with a Forever stamp for his prowess as a baseball icon who demonstrated the right way to earn the respect of family, friends, competitors and people everywhere," the family said in a statement.
Background
Yogi Berra was one of the greatest Major League Baseball players of all-time. He won three American League MVP awards, was an 18-time MLB All-Star and played in the World Series championship in 14 of his 18 seasons in Yankees pinstripes.
Born Lawrence Peter Berra, he earned his famous nickname while playing American Legion baseball. Legend has it that Berra and his teammates went to the movies, where they saw a travelogue about India. Noticing that Berra sat waiting to bat with legs and arms folded in the same fashion as the yogis on the screen, one of his teammates decided everyone should call Berra "Yogi."
The Yankees signed Berra to a minor league contract in 1942. After playing one season, he was drafted and served in the Navy during World War II serving as part of the D-Day invasion and eventually earning a Purple Heart. Discharged in May of 1946, Berra played with the Yankees for the final week of the season. He hit the first of his 358 Major League home runs in his second time at bat. The next season, he won the first of his World Series rings.
A talented athlete, Berra became almost as well known for his paradoxical sayings, Yogi-isms — contradictory bits of logic and humor — as for his skill on the baseball diamond. "I never said everything I said," Berra conceded, but several quotes attributed to him appear in Bartlett's Familiar Quotations.
After retiring as a Yankees player in 1963, Berra began a second career as a manager and coach, taking two teams to the World Series as manager.
Berra was elected to the National Baseball Hall of Fame in 1972 and was a posthumous recipient of the Presidential Medal of Freedom, the nation's highest civilian award.
Art director Antonio Alcalá designed the stamp with original art by Charles Chaisson and lettering by Michael Doret.
The Yogi Berra stamp is being issued as a Forever stamp in panes of 20. These Forever stamps will always be equal in value to the current First-Class Mail 1‑ounce price.
A pictorial postmark of the designated first-day-of-issue city, Little Falls, NJ, is available at usps.com/shopstamps.
Postal Products
Customers may purchase stamps and other philatelic products through the Postal Store at usps.com/shopstamps, by calling 844-737-7826, by mail through USA Philatelic, or at Post Office locations nationwide.
The Postal Service generally receives no tax dollars for operating expenses and relies on the sale of postage, products and services to fund its operations.
###
Posted on September 23rd, 2015
* Yogi Berra.
Yogi Berra passed away last night at the age of 90.
Now real fast, name the New York Yankees' current starting catcher. Or how about the name of the Yankees' current starting left-fielder!
Times sure have changed.
Make sure that you eat those hot dogs with mustard and sauerkraut, French fries with loads of ketchup, pizza slices- and drink those chocolate shakes…because I'm pretty sure that- you only get to go around once!
______________
from sports.yahoo.com
Yogi Berra 1925-2015: Sports world mourns the loss of baseball icon Yogi Berra
Yogi Berra: A celebration of baseball, life and a man's legacy of words Jeff Passan By Jeff Passan
One of the most beautiful lives baseball has known, full of accomplishment and achievement, of kindness and compassion, of malapropism and solecism, ended Tuesday night. Yogi Berra died at 90 and took with him a legacy inimitable in every way imaginable. More than his play on the field, his words defined him and will continue to do so long after his passing. Because nobody knew how to mangle the English language as gloriously – and prophetically – as Lawrence Peter Berra.
"When you come to a fork in the road, take it."
Born to immigrants in St. Louis, storming the beach at Normandy, shot later in World War II, behind the plate for the New York Yankees, in the dugout for them and the New York Mets, kibitzing around New Jersey with his beloved wife, Carmen, Yogi Berra bebopped from place to place, moment to moment, his presence a vortex. Berra's pull was gravitational, and it made his famous quotes all the more powerful. People didn't latch on to what Berra said because of what he did. They found meaning in his words because of who he was. For the pocket philosopher who tries to translate Yogi-isms, this one – which sprung from a split road that ended up at his home on either path – is quite simple: Trust yourself.
"Baseball is 90 percent mental. The other half is physical."
Yogi Berra was a mythical creature: the eminently likeable Yankee. He spent almost his entire career in pinstripes, save for four games as a player-coach with the Mets, and on teams with Joe DiMaggio and Mickey Mantle and Phil Rizzuto and Whitey Ford and Roger Maris, he was the lifeblood, the spiritual essence, the lunch-pail figure so beloved he inspired a cartoon character who loved nothing more than pilfering a good lunch. Never did Berra bother to correct his math here, though perhaps that was intentional. To do what he did for as long as he did may well have taken more than 100 percent.
"It's like déjà vu all over again."
Every year, it was almost the same. Yogi Berra would hit somewhere in the neighborhood of .300, get on base about 36 percent of the time, hit at least 20 home runs, drive in around 100 runs, strike out 20-something times and make the All-Star team long before it became a participation-trophy event. Fifteen straight times Berra was an All-Star, even toward the end of his career, long after the three MVP awards and seven top-four finishes. Every spring he would show up a year older, a step slower, a hair thinner, and he'd still be Yogi, forever Yogi.
"I always thought that record would stand until it was broken."
The record will stand forever. Of every great thing Yogi Berra did on a baseball field – 358 home runs, 1,430 RBIs, a .285/.348/.482 line while regularly catching 140 games a season and 117 times doing so in both ends of a doubleheader – he won 10 World Series rings, a number that even though it was easier in the '40s and '50s and '60s remains unfathomable today. Over his 19 seasons, Berra played in 14 World Series, a reflection not just of how the Yankees lorded over the sport but Berra's central role. For the most successful franchise in sports history, he participated in more success than anyone.
"You can observe a lot just by watching."
For all of George Steinbrenner's brilliance as an owner, his stubbornness was poisonous, and when he fired Yogi Berra 16 games into the 1985 season, something was missing from the Bronx. By insulting and rejecting Berra, the Yankees actively choosing a life without him was like a shoe shunning its laces, a table snubbing its legs, a light fixture discarding its bulb. During the return of the Yankees' glory days in 1996, the knowledge that the bridge separating Berra and the Yankees in reality was a few miles but in his mind was a million cast sadness and emptiness on this new era. Berra kept waiting and waiting and waiting for an apology, and when Steinbrenner acceded, it felt almost like an international peace accord. The Yankees held Yogi Berra Day in 1999, and for the next 15 years, health permitting, he was the team's most visible legend. Ultimately, he knew life with the Yankees and life without them, and he knew which made him happiest.
"I never said most of the things I said."
Time exaggerates words, and Yogi Berra's existence was a huge game of telephone. He probably said some of the things attributed to him. He probably didn't say others. Never did he go out of his way to correct the ledger, though, because he knew something that resonated far deeper than one would expect from someone of chronic misspokenness: The words fit who we wanted him to be, and as important as he was to his sprawling Berra clan, Yogi was also the people's, and he'd always be.
"You should always go to other people's funerals. Otherwise, they won't come to yours."
.Yogi Berra was beloved by modern Yankees legends such as Derek Jeter. (AP)
Yogi Berra was beloved by modern Yankees legends such as Derek Jeter. (AP)
They'll come to his. They'll come in droves, from all five boroughs and every corner of Jersey, from the rest of the northeast and the southeast and stretching across the United States, from remote places in the world so far away it seems impossible that one man's web of influence could reach so many. They'll come not just because he came to theirs, but because Yogi Berra's is a life well worth celebrating.
"It ain't over 'til it's over."
It's over. It's sad because we saw Yogi Berra slow down in recent years, and when someone whose wondrous mind always worked with a lilt of childishness loses that to old age it's a harrowing reminder of fallibility and the vagaries of time. If it allows everyone across the game and the country and the world to remember him, though, to spread the wit and wisdom, then it dovetails with how he spent his 90 years. As a kid, Berra's friends started calling him Yogi because how he sat resembled a yoga practitioner, and it stuck, even as he grew into a 5-foot-7, 185-pound squat, inflexible bowling ball. It fit, too, somehow, maybe because of the connotation of spirituality and philosophy and the unique place in history Berra occupies. He took the fork and ended up here, exactly where he belongs.