Conte's Pizza (Delray Beach)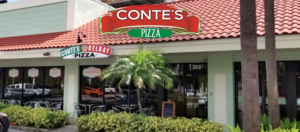 ***** Conte's Pizza, 309 NE 2nd Avenue, Delray Beach, Florida 33444, (561) 908-2059.
Got an absolutely killer Italian joint for you guys to check-out, Conte's Pizza in Delray Beach.
Basically a takeout operation, pizza/ calzone/ stromboli/ wings/ salads/ hot & cold subs/ garlic knots menu, order/pickup at counter, handful of inside and outside tables.
Last night, gave Conte's a shot picking-up food for myself and five poker buddies- and I'm telling you guys that its stuff was absolutely off the chart- delicious!
Forgetting that Jeff Eats footed the bill (and that free food always tastes good)- my friends all in their late sixties- (3 originally from The Bronx and 2 originally from Brooklyn) agreed that Conte's pizza, calzone and garlic knots were right up there with the best stuff we grew up on- before we-became Floridians!
Trust Jeff Eats when I tell you guys- that you definitely want to give Conte's Pizza a shot!
You can check menu/prices/info at contespizzadelray.com.
Conte's Pizza is open 7 days a week 11:30am-9:00pm.