Guy's Restaurant Reboot
* Guy's Restaurant Reboot.
This coming Saturday, June 12th, 2021 starting at 7pm, Guy Fieri is hosting a live tv-show Guy's Restaurant Reboot that is featuring/headlining all types of celebrities and major corporations- to promote America's Restaurants In Their Re-Opening Efforts From The Covid-19 Pandemic! From what I am hearing, personalities such as Shaquille O'Neal, Rob Gronkowski, Diplo, Old Dominion and loads of others will be cooking, advising, donating funds, mentoring and performing- in an all out effort to get America's restaurants rolling again!
The show sounds like it's gonna be amazing…
You guys can check- out details etc- at GuysRestaurantReboot.com.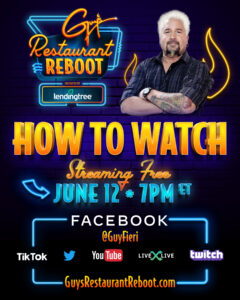 From extratv.com
Extra's" Jenn Lahmers caught up with Guy Fieri to talk about his upcoming livestream event called "Guy's Restaurant Reboot Presented by Lending Tree"! The primetime special aims to empower the next generation of restaurant owners.
Fieiri teased what to expect, saying, "Music, entertainment, restaurant information, money giveaway." He added they've got, "Shaq and Rock coming, Diplo playing, we've got Old Dominion in there. I went through my Rolodex of my brothers and sisters in the industry, Cat Cora, Buddy Valastro, José Andres, the great one, all to talk about the industry at some different roundtables. The restaurant industry, we need some support."
Join the free livestream, co-hosted by Chef Antonia Lofaso, on June 12 at 7 p.m. ET. You can find it on Guy's Facebook page, and simulcast by partner LiveXLive across 20+ other platforms including: LiveXLive, YouTube, Twitch, TikTok, Twitter, as well as at GuysRestaurantReboot.com.