Win A $25 Hong Kong Palace Gift Card (Boca Raton)
This contest started on 5/30/21. This contest has a winner.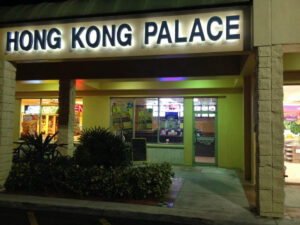 * Win A $25 Hong Kong Palace Gift Card.
Jeff Eats got a $25 Hong Kong Palace Gift Card to give to one of you guys!
The game- the first 25 "reader-comments" received – will be entered in a "blind hat pick"! You can submit as many comments as you'd like but- Please, only 1- reader comment – per day…play fair!
The $25 Gift Card is good at Hong Kong Palace, 22191 Powerline Road, Boca Raton, Florida 33433, (561) 338-5887.
Check menu/prices/info at hongkongpalacebr.com.
Posted on September 28th, 2014
***** DISH OF THE WEEK (September-9/28/14).
One of Jeff Eats' favorite menu items…
BBQ PORK SPARERIBS
$9.50 (large order)
Hong Kong Palace
22191 Powerline Road
Boca Raton
(561) 338-5887
hongkongpalacebocaraton.com
Latest Review: 6/18/11.
Real easy story here…the bbq pork spareribs will have you thinking that it's 1957 and -you got them from Joy Fong's on Avenue J & Coney Island Avenue, Brooklyn. Outstanding ribs- by the way, you guys can insert the name of your "favorite" Jewish American Chinese Restaurant circa 1950's-1960's in place of Joy Fong's, if you so desire. For you "youngsters" out there, 70's-2014 will also work.
Posted June 18, 2011
***** Hong Kong Palace, 22191 Powerline Road, Boca Raton, Florida 33433, (561) 338-5887.
Don't ask! Hong Kong Palace a "takeout only" Chinese joint has been around for something like 30 years and although it's about 6 minutes from my house, I didn't know that it existed until last night around 7:30pm. Mrs. Jeff Eats couldn't "find" a red paper party bag that she needed at Party Supermarket so she dragged me to Party City (where she normally doesn't shop) in her quest for that red paper party bag…and low and behold, while she was in Party City, I just happened to "notice" Hong Kong Palace which is right next door. Twenty minutes later…she had the red paper party bag and I had two plastic bags filled with…wonton soup, egg rolls, pan fried dumplings, white rice, bbq ribs, shrimp with lobster sauce, mu shu pork, sweet & sour chicken, beef with broccoli, a handful of fortune cookies.
You know what good fortune is? Well, a quest for a red paper party bag—resulted in me coming-upon a good Chinese takeout. Just for the record, the bbq ribs were 6-of the best that I've had in a very long time. Everything "else" was A-Ok, but nothing to get hysterical about. The beautiful part of this story, is I now know as do you, where you can get absolutely delicious Chinese bbq ribs.
You can check menu/prices at www.hongkongpalacebocaraton.com.
Hong Kong Palace is open Monday-Thursday 11am-10pm, Friday-Saturday 11am-10:30pm, Sunday, 2:30pm-10pm. If you pay cash over $15-$25-$40 they throw some items like spring rolls, egg rolls, krab rangoon, fried rice in the bag for nothing. One other thing, Party City has red paper party bags for $1.99 and is open Monday-Wednesday 9:30am-8:30pm, Thursday-Friday 9:30am-9:00pm, Saturday 8:30am-8:30pm, Sunday 10am-6:00pm.