Green River at Wellington Amphitheater May 21st & 22nd (Wellington))
Originally posted on April 29th, 2021.
* Green River at Wellington Amphitheater May 21st & 22nd.
Fauci or no Fauci- Green River is one of the best Creedence Clearwater Revival tribute acts in the business…
If you wanna go- make sure that you follow the instructions down-below…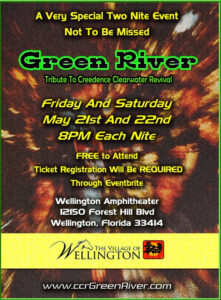 https://fb.me/e/1aw4dgc8P
One of the greatest American rock bands ever, Creedence Clearwater Revival will best be remembered for their unique bayou sound popularized in songs like "Proud Mary" and "Green River." Green River will take you back to the time when CCR ruled the charts. Now the greatest of American bands is getting a tribute truly fitting of their legacy! Green River will deliver the Mojo of a full CCR live concert experience.
More information about Green River can be found at http://www.CcrGreenRiver.com
Instead of a single night, concerts will be scheduled for Fridays and Saturdays at 8:00 PM. Gates will open for entry at 6:30 PM.
While tribute concerts are FREE to attend, ticket registration will be REQUIRED through Eventbrite. Space is limited.
Tickets will become available for registration beginning on the Monday prior to each scheduled concert. One ticket is REQUIRED per attendee (including children, toddlers, and babies). Visit wellingtonfl.gov/Eventbrite to register.
Masks are required for all Amphitheater events (except while eating or drinking), and guests are encouraged to bring their own blankets or lawn chairs for seating All attendees are expected to follow all recommended social distancing and CDC guidelines. No outside alcohol, no smoking, no pets.
For details on upcoming concerts, movies, and food truck events, visit wellingtonfl.gov/Amphitheater.