Angelo Elia Pizza Bar Tapas (Fort Lauderdale, Weston, Coral Springs, Delray Beach)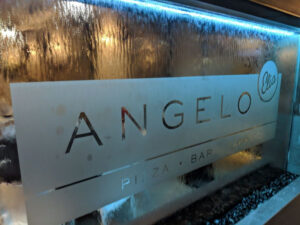 Angelo Elia Pizza Bar Tapas, 16950 Jog Road, Delray Beach, Florida 33446, (561) 381-0037, angeloeliapizza.com.
You guys do know that food-reviews are strictly a subjective call…what I like, you may hate and what I think is hot, you may think is cold!
Keeping the above in mind, last night Jeff Eats and Mrs. Jeff Eats ate dinner at Angelo Elia Pizza Bar Tapas in Delray Beach. Suffice it to say, MEDIOCRE and that's being kind! Chicken parmigiana as hard as a hockey puck, linguine pomodoro that was literally tasteless, grilled salmon salty beyond belief and a cheese pizza that was undercooked, soggy and like the linguine-tasteless! On the service front, after the food was delivered, Jeff Eats and Mrs. Jeff Eats never saw the waitress again until she brought our check. For a bit more color- our waters and sodas were never refilled and it only took 3 requests to a bus-boy to get table setups (which for some reason weren't on the table when we were first seated).
Like- I said a few seconds ago- food reviews are subjective calls…
For you guys who seek your own knowledge, there are 4 Angelo Elia Pizza Bar Tapas in Florida…
Fort Lauderdale
4215 N. Federal Highway
Ft. Lauderdale, FL 33308
(954) 561-7300
Weston
COUNTRY ISLES SHOPPING CENTER
1370 Weston Rd
Weston, FL 33326
(954) 306-0037
Coral Springs
SAWGRASS CENTER
5920 Coral Ridge Dr
Coral Springs, FL 33076
(954) 344-1233
Delray Beach Beach
16950 Jog Rd
Delray Beach, FL 33446
(561) 381-0037
You guys can check angeloeliapizza.com for menu/prices/info. You can also check YELP, TripAdvisor etc. for pictures/reviews!
Let me wrap-up Angelo Elia Pizza Bar Tapas by saying, Jeff Eats and Mrs. Jeff Eats most likely-won't be back for round 2!- and the bet here is that your current favorite Italian joints- run circles around this small chain operation!