Bern's Steak House (Tampa)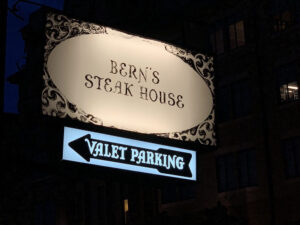 Bern's Steak House, 1208 South Howard avenue, Tampa, Florida 33506, (813) 251-2421, bernssteakhouse.com.
A recent e-mail received from long time Jeff Eats' reader, Andy Gold…
Hey Jeff,
As you know I've been reading you for years, blah, blah, blah.
Just curious, have you ever eaten in Bern's Steak House in Tampa? The reason I ask, is because my wife and I are going to be visiting Tampa on some personal business the first week of March and we've been hearing about this legendary upscale Steak House for years and figured we'd give it a shot. It's very hard to get a reservation, etc.
Your thoughts as always would be appreciated.
Thanks
Andy Gold
__________
Andy Gold,
As you may- or may not know, Bern's has been around since 1956. If you check YELP and other review sites, many-many-many people swear by this joint!
Long story short, over the years I've eaten in the joint 3-times with the latest outing having been in January, 2020.
All I can tell you is that IMHO- Bern's Steak House is an absolute JOKE! Its overpriced food stinks and its service is absolutely horrendous (no, make that- atrocious).
Just in case you were wondering, the reason for the 3- outings, business associates picked the joint.
As you know, food reviewing is purely a subjective call. You know the game- what I like, you may hate and vice versa.
In life there are things that can't be explained…with that in mind, why anyone would rate Bern's Steak House as being top-shelf is beyond my comprehension!
Thanks for being such a loyal reader…
DEFINITELY NOT A BERN'S STEAK HOUSE FAN!
Jeff Eats