THE SHAQ BOWL
* THE SHAQ BOWL.
If you're not going to the BIG GAME, you guys may want to checkout out…
THE SHAQ BOWL, a "free" viral pre-game kick-off show headlined by Shaquille O'Neal- scheduled for Sunday, February 7th, 2021- 3pm-6pm!
Check SHAQBOWL.COM for details…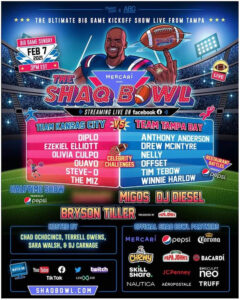 From:
Hollywoodreporter.com
JANUARY 28, 2021 9:05am PT by Chris Gardner
Shaquille O'Neal Sets 'Shaq Bowl' Pre-Game Event With Anthony Anderson, Tim Tebow, and More
Shaq Tim Tebow Olivia Culpo Anthony Anderson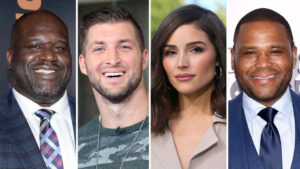 'Shaq Bowl' participants include Anthony Anderson, Tim Tebow, Olivia Culpo, Diplo, Ezekiel Elliott, Nelly and Offset.
Shaquille O'Neal — always a familiar face on the Super Bowl party scene courtesy of his wild bash Shaq's Fun House — is heading to Tampa to mount a Sunday kick-off show, Mercari Presents The Shaq Bowl.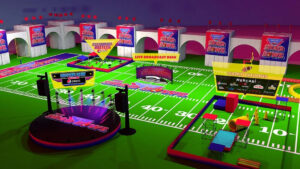 Broadcasting live from Tampa in a custom-built stadium, the event will feature athletes, celebrities and artists across two teams competing in challenges to win the first-ever Shaq Bowl trophy. The three-hour special kicks off at 3 p.m. ET and will stream free on Facebook and on the event's website as well as being simulcast by LiveXLive across over 20 platforms including LiveXLive, YouTube, Twitch, TikTok, and Twitter.
"With no in-person events this year, I teamed up with Mercari to create The Shaq Bowl and connect Americans on the biggest day for sports of the year," says O'Neal. "Featuring a ton of my celebrity friends competing in viral challenges, plus superstar musical artists all live from Tampa, prepare for the most fun and action-packed Big Game Sunday show ever."
O'Neal will be among the few stars on the ground in Tampa this weekend as the ongoing COVID-19 pandemic has dampened the typically bustling Super Bowl events scene. Hosted by former NFL stars Terrell Owens and Chad "Ochocinco" Johnson along with Sarah Walsh, the event will even have its own mid-game entertainment courtesy of The Shaq Bowl Halftime Show Presented by Pepsi Stronger Together. It will feature a performance by Migos and DJ Diesel with a surprise A-list guest.
As far as the competition portion, suiting up for Team Kansas City will be Diplo, Ezekiel Elliott, Olivia Culpo, Quavo, Steve-O and The Miz. Competing on behalf of Team Tampa Bay will be Anthony Anderson, Drew McIntyre, Nelly, Offset, Tim Tebow, and Winnie Harlow. Also featured: A race between O'Neal and artist Bryson Tiller in Papa John's Epic Stuffed Chair, billed as "the ultimate sports-watching seat to enjoy the new Epic Stuffed Crust."
Pepsi Stronger Together is partnering with the National Restaurant Association Educational Foundation (NRAEF) to donate $100,000 in grants to help struggling restaurants. Pepsi will also rollout out "Restaurant Battles," a showcase for four local Tampa restaurants that will see them compete for a $10,000 grant. Other sponsors include Corona, Quaker Chewy, Skillshare, Xersion, JC Penny, Bacardi, Truff, Aeropostale, Nautica, and Emsculpt Neo.
The Shaq Bowl is produced by Medium Rare, a company that previously rolled out Gronk Beach, Shaq's Fun House, The Sports Illustrated Awards, Shaq vs Gronk, and Black Entrepreneurs Day.