Galuppi's Super Bowl Watch Party (Pompano Beach)
Originally posted on January 8th, 2021.
* Galuppi's Super Bowl Watch Party.
I don't know about you guys- but I gotta get out of my freaking house- not to mention getting rid of this mask induced acne on my chin…
With that in mind, here's what Jeff Eats, Mrs. Jeff Eats and another couple are planning for this year's Super Bowl Sunday…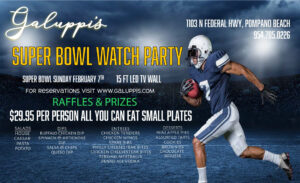 Rather than detailing Covid-19 rules and regulations…if Galuppi's event is of interest – check GALUPPIS.COM for event details/reservations/information/so forth and so on!
Posted on August 10th, 2008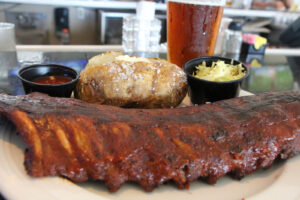 ***** Galuppi's, 1103 N. Federal Highway, Pompano Beach, Florida 33062 (954) 785-0226.
Last night, I had an absolutely terrific time at a joint named Galuppi's in Pompano Beach. Just so you know, Galuppi's which calls itself "Galuppi's Restaurant, Patio Bar & Banquets" is actually located on the public Pompano Beach Golf Course… the view from its out-door patio of the course is absolutely amazing.
Galuppi's is basically a restaurant/catering facility. There is a small indoor restaurant that has a large sit-at-bar, 4 booths and maybe a half-dozen hi-tops…outside, there is another sit-at-bar and loads of tables…there is also a banquet room attached to the restaurant that can be used for private parties or for restaurant customers. Now, to put this whole layout in perspective…go to Galuppi's website at www.galuppis.com where you will find actual pictures of what I have been blabbing about, along with menu/prices/and other details.
Last night, Galuppi's which does lunch and dinner 7 days a week and brunch on Sunday had The Beatles' tribute band "Anthology" performing from 8pm-midnight. Suffice it to say, this joint was absolutely packed… the restaurant-the banquet room-the outside bar/patio…the band was on a small stage on the patio and I'll bet you that from 8:30pm-10:30 pm (time I was there) there were at least 500-600 people maybe even more, eating…drinking…dancing. I am telling you, it was an absolutely great "party." By the way, there was no cover charge or minimum…so for the price of a meal or a drink…or for that matter, just walking in…got you into this "concert."
Just a quick note, "Anthology" was terrific. They were dressed in replicas of The Beatle's Shea Stadium army-uniforms and had the requisite Beatle haircuts…they did some great covers of The Beatles' hits. The group is extremely personable and their interaction with the crowd had the joint really jumping. Their faux British accents which came and went all evening long, added to the fun…and yes, they even have a left-handed bass player. You can check "Anthology" out at www.myspace.com/fab4anthology. I guarantee that based on last night's action, Galuppi's owners will have "Anthology" back for another gig in the very near future.
I already gave you this joint's website…take a look at its menu. There are plenty of appetizers, salads, burgers, sandwiches, entrees and desserts to keep everyone busy…By the way, the prices are very reasonable and last night our waitress Bobbi-Lynn was absolutely terrific despite the fact that the joint was absolutely packed (and I do mean packed). Last night I had babyback ribs, I also sampled the crab-cakes, snapper francaise and steak kabobs. The food is real-decent. Personally I would put it about "1-notch" above the stuff you get in your typical neighborhood sports bar. Just so you know, Galuppi's also has tons of flat screen tv sets inside and outside…Last night every set was tuned to the Olympic Games, so if "The Beatles" weren't your game, you could scream for the American swimmers.
One thing that I found interesting…the banquet room has sound-proof glass. Amazingly, while eating in the room, you couldn't hear the out-door crowd or the band at all.
Galuppi's is open for lunch and dinner 7 days a week and for brunch on Sunday. According to its website, the joint has all kinds of entertainment and "specials"…so If you want to try Galuppi's, I would suggest that you "call ahead" to find out "what's on tap" (pun intended).