DISH OF THE WEEK (Sunday-1/24/21- Mike's Italian Ice- Orlando)
***** DISH OF THE WEEK (Sunday-1/24/21- Mike's Italian Ice).
One of Jeff Eats' favorite menu items…
CHERRY GELATI
(Large-$4.99, cherry Italian ice/vanilla soft-serve ice cream)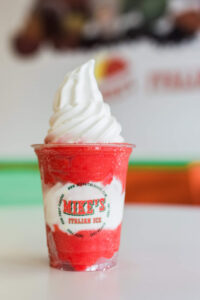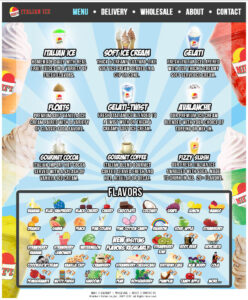 Mike's Italian Ice
4546 South Semoran Boulevard
Orlando
(407) 658-4453
mikesitalianice.com
Latest review: 6/1/15
Trust Jeff Eats on this one, if you like Italian ices and soft serve ice cream- you will absolutely positively love Mike's Italian Ice.
All I can tell you guys, if this joint was anywhere near- Jeff Eats' Boca Raton abode- I'd weigh something like 386 pounds!
Posted on June 1st, 2015
***** Mike's Italian Ice, 4546 South Semoran Boulevard, Orlando, Florida 32822, (407) 658-4453.
Just between you guys and Jeff Eats I've been eating Italian Ices since 1949…when I started, the neighborhood Brooklyn pizza joint "had" something like 4-flavors…Lemon, Cherry, Rainbow and Chocolate-and a scoop in a squeeze cup was 10 cents! Now, just in case we ever find ourselves together on the 'Newlywed Game Show"- back in '49- Jeff Eats absolutely loved Cherry, then came Lemon, next up Chocolate and then Rainbow!
Anyway,
Some 65 years later, I'm still a huge Italian Ice Fan…
Jeff Eats recently came across Mike's Italian Ice in Orlando…and as "expected" the joint was located in a bombed out shopping center and had the "expected" handful of tables.
Mike's makes its "own" ices and has 20+ daily flavors! Mike's also has vanilla and chocolate soft serve ice cream…
Real simple story- delicious cherry, lemon, rainbow and chocolate ices…now, if you're still with me- if you take Mike's cherry ice and "fold in" some of Mike's vanilla soft serve-you have what is called a gelati…and you will know why Jeff Eats has been an Italian Ice Fan literally forever-and why I didn't want to leave Mike's after finishing a large cup!
On pricing, you know and Jeff Eats knows that nothing, and I do mean nothing costs 10 cents-anymore…but trust me, you won't need a second job to have one of those large gelati-cups that I just told you about!
You can check Mike's menu/prices/info at mikesitalianice.com
Mike's Italian Ice is open Monday-Saturday 11am-9pm, closed Sunday.