Win A $25 Park Avenue BBQ Grille Gift Card (Palm Beach Gardens, Stuart, Port Saint Lucie, Boynton Beach, North Palm Beach, Wellington, Jupiter, West Palm Beach)
This contest started on 1/14/21. This contest has a winner.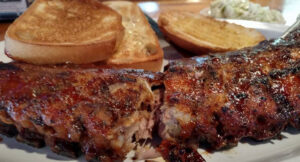 * Win A $25 Park Avenue BBQ & Grille Gift Card.
Jeff Eats got a $25 Park Avenue BBQ & Grille Gift Card to give to one of you guys…
The game- the first 25 "reader-comments" received – will be entered in a "blind hat pick"! You can submit as many comments as you'd like but- Please, only 1- reader comment – per day…play fair!
For you guys who've never eaten at Park Avenue BBQ & Grille…Florida based BBQ chain- which currently has 8 Florida joints- off the chart reasonably priced ribs/burgers/bbq chicken/wings/salads/sides, huge portions!
The $25 Gift Card is good at any Park Avenue BBQ & Grille location. You can check pabbqgrille.com for locations/menu/info.
Posted on 1/31/16
***** DISH OF THE WEEK (Sunday- 1/31/16).
One of Jeff Eats' favorite menu items…
FULL RACK OF BABY BACK RIBS (2 sides)
$20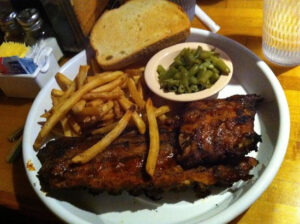 Park Avenue BBQ & Grille,
4796 North Congress Avenue
Boynton Beach, (Boca Raton, North Palm Beach, Port Saint Lucie, Stuart, Tequesta, West Palm Beach)
(561) 357-7427
pabbqgrille.com
Latest Review: 1/22/10
Real simple tale to tell- Park Avenue makes some outrageously delicious bbq baby backs and other stuff. Jeff Eats has been eating there (7 South Florida locations) for years and I can't recall even one bad meal!
Just so you know, Park Avenue really isn't into "smoke"- let's just say pressure cooked meats finished-off on a gas grill- trust Jeff Eats, the ribs-so on and so forth, come out absolutely delicious!
Like I said a few seconds ago, I've been eating there for years- delicious food, reasonable prices, terrific service, big portions- Go!- you'll become a fan!
Posted 1/22/10
***** Park Avenue BBQ Grille, 1198 North Dixie Highway, Boca Raton, Florida 33432 (561) 416-7427.
On April 29, 2008 I told you guys about Park Avenue BBQ Grille…a small-casual-very reasonably priced-Florida based "bbq-chain." Last night, I had dinner at Park Avenue's newest location (#9) which just opened in Boca Raton…and the food is terrific.
Park Avenue's newest spot—is located in the free-standing building formely occupied by Bucky's BBQ. From what I can tell, other than hanging a few new signs and decorations, the joint has the same interior as Bucky's had…and I gotta tell you, the cozy 98 seat dark wood table/ booth–dimly lit–small bar decor is great looking. For those of you not familar with this chain's other 8 locations–they seat close to 150, have large bar areas and are brightly lit. Although the Boca location "looks" different than its brethren…the food is exactly the same, delicious.
Do me a favor and read my original 4/29/08 review…it will save me from doing some typing. You can check Park Avenue's BBQ website www.pabbqgrille.com for menu/prices.
Park Avenue is one of the best bbq-joints in South Florida…The joint is open 7 days a week 11am-10pm.
Posted on April 29th, 2008
***** Park Avenue BBQ & Grille, 4796 North Congress Avenue, Boynton Beach, Florida 33426, (561) 357-7427.
Park Avenue is a small "local" South Florida bbq chain. I have lost count on how many there are, but 7 or 8 units sounds about right. Over the years I have eaten in 3 of its locations a total of something like 35 times and taken out so much food, that it's amazing that I haven't had to have an angioplasty done. Anyway…my last Park Avenue outing was last night (at the Boynton Beach location) and I have to tell you, that the joint's baby-back ribs and bbq chicken are absolutely delicious. This joint also makes corn-fritters doused in powder sugar that are terrific.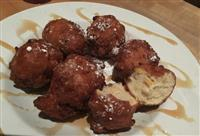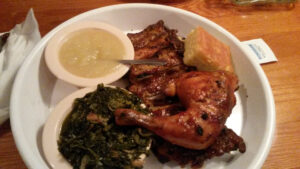 Do yourself a favor and visit a location in your area. Delicious food. Big portions. Pleasant and efficient waiters/waitresses. All kinds of menu "price specials." Park Avenue is open 7 days a week for lunch and dinner. If you wear anything dressier than tee shirt/shorts you will look silly.