MIKE MARINO: NEW JERSEY'S BAD BOY OF COMEDY RETURNS! (Mizner Park Cultural Center- Boca Raton)
This show (4/18/20) was canceled because of the Coronavirus- it is now rescheduled for Saturday, November 13th, 2021 at 7:30pm.
Just checked the box-office (miznerparkculturalcenter.com) and there is a handful of tickets still available. All I can tell you guys is that Mike Marino puts on a phenomenally funny show- and that you don't want to miss him!
Originally- Posted on August 19th, 2019.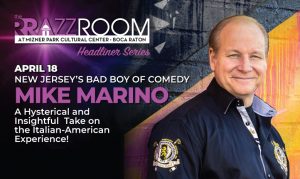 * MIKE MARINO: NEW JERSEY'S BAD BOY OF COMEDY RETURNS!
You guys don't want to miss Comedian- Mike Marino!
Trust me when I tell you that the "clean" working Marino- will have you guys laughing your collective asses off, all night long!
The Skinny:
MIKE MARINO: NEW JERSEY'S BAD BOY OF COMEDY RETURNS!
Saturday, April 18, 2020 (7:30pm)
Mizner Park Cultural Center
201 Plaza Real
Boca Raton, Florida 33432
Box Office: (844)-672-2849
Tickets: miznerparkculturalcenter.com check goldstar.com (discount tickets)
Just a taste…
from miznerparkculturalcenter.com
April 18th @ 7:30 pm
Mizner Park Cultural Center
Mike Marino
Stand-up comedian Mike Marino – affectionately known to fans as "New Jersey's Bad Boy" – brings his hysterical take on the Italian-American experience to The RRazz Room at Mizner Park Cultural Center!
A native of Jersey City, Mike's material is largely inspired by his own life, from his Italian family roots to his edgy observations about everyday life. His riotous approach to stand-up has taken him from The Tonight Show and Comics Unleashed to sitcoms – including appearances on Frasier and Becker – and major nightclubs, theatres, and casinos from New York City to Los Angeles and around the world.
Mike has also been a highlight of Montreal's Just For Laughs Comedy Festival for seven years in a row. And in 2008, Marino was inducted into the New Jersey Comedy Hall Of Fame, and on 2015, he was awarded the USO Bob Hope Comedy Award for his regular performances for our US military. He currently appears on his own DDV Radio Show Live From My Mother's Basement. and on a new web series, "A Marino Moment In History," only on YouTube.