Eating Bacon, No Drinking, No Smoking, No Partying!
This tale originally posted on July 10th, 2014.
By the way, the primary subject of the post, Miss "Susie" Susannah Mushatt Jones passed away on May 12th, 2016.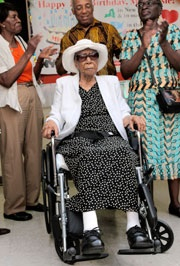 Posted on July 10th, 2014.
* Eating Bacon, No Drinking, No Smoking, No Partying!
Just read the below aol.com "story"–about some 115 year old Brooklyn woman- Miss Susie who attributes her longevity to eating bacon every single morning and abstaining from alcohol, smoking and partying…
Now let me see,
Jeff Eats was born in Brooklyn. CHECK!
Jeff Eats- eats bacon, but not every single morning. ALMOST CHECK!
Jeff Eats-doesn't drink. CHECK!
Jeff Eats-doesn't smoke. CHECK!
Jeff Eats-hasn't been to a Bar or Bat Mitzvah in something like a year. CHECK!
Rounding out things, using Miss Susie's formula, I'm probably good for another 20-35 years…of course I'll have to jump- my bacon consumption to every day to make the numbers work!- Also, does the bacon have to be eaten in the morning and how much bacon do I have to eat? Also, do you guys think I could substitute bbq pork ribs for the bacon on Tuesdays and Fridays?
You folks can play mathematician and figure out your own life spans…
Enjoy the article.
*****
BROOKLYN (PIX11) – 1899 was quite the year. It's when Staten Island and Queens officially became part of New York City, the paper clip was introduced, and Miss Susannah Mushatt Jones made her debut115 years later, all are still alive and well, but Miss Susie is the one with reason to celebrate.
The Brooklyn community that she has called home for the past several decades gathered at the Vandalia Senior Center in Brooklyn to honor the super centenarian to celebrate her 115th birthday.
Miss Susie has a lot to brag about. She is New York City's oldest resident, has lived in the 19th, 20th, and 21st centuries, and she has more than 100 nieces and nephews.
"You know what she does, she eats bacon," Jones' Goddaughter Valerie Price told PIX11 News last year, shedding light on how Miss Susie has lasted so long. "She eats bacon every single morning. Now I don't advocate that because I don't even eat it myself but that's what it is."
Today, Miss Susie admits that abstaining from alcohol, smoking, and partying probably helped her live as long as she has.
To put everything in perspective, Miss Susie has survived two World Wars, 22 U.S. presidents, the Great Depression, the Cold War, the birth of the telephone, radio, TV and internet, the Civil Rights Movement, and every Super Bowl and World Series ever played.