Comedian- Bobby Collins (Boca Black Box- Boca Raton)
* Comedian- Bobby Collins.
Under normal circumstances (no-coronavirus), Collins' 3- upcoming Boca Black Box shows would have sold-out months ago…
That said- If you haven't yet-seen the "clean working"- Bobby Collins…GO!- I guarantee – that you will have an absolutely great time!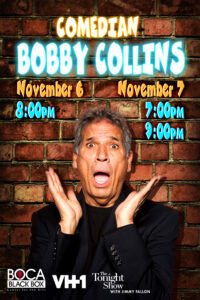 Just a taste…
The Skinny:
Comedian-Bobby Collins
Friday, November 6th, 2020 (8pm)
Saturday, November 7th, 2020 (7pm & 9pm)
Boca Black Box
8221 Glades Road Suite #10,
Boca Raton, Florida 33434
Box Office: 561.483.9036
Tickets: bocablackbox.com check goldstar.com for discount tickets
from bocablackbox.com
A native New Yorker, comedian Bobby Collins is a comedy legend who engages audiences across the country with his comedic characterizations. He exposes the humor of day-to-day situations and serves up resplendent rants on world events.
Through precise physical timing and impeccable audience insight, he has honed his talents while performing from hole-in-the-wall clubs to sold out theaters, including a birthday performance for Chelsea Clinton at the White House and appearances in US embassies and USO shows abroad.
His true dedication to his craft is what keeps his vibrant shows consistently sold out. A storyteller at heart, Bobby is able to truthfully translate the human condition and skillfully dissect everyday life with charisma and effortless flair.
As a professional stand-up comedian, he's worked alongside Chris Rock, Ray Romano and Drew Carey, as well as many others, and has appeared on The Late Show with David Letterman and The Tonight Show with both Jimmy Fallon and Jay Leno. His CD Out of Bounds earned him a Grammy nomination.