DISH OF THE WEEK (Sunday- 10/25/20- The Chop Shop- Lakeland)
***** DISH OF THE WEEK (Sunday- 10/25/20- The Chop Shop).
One of Jeff Eats' favorite menu items…
COBB SALAD
($10.99- choice of rosemary chicken- turkey- or Black Forest ham, diced egg, bacon, tomato, avocado, walnuts, cheese)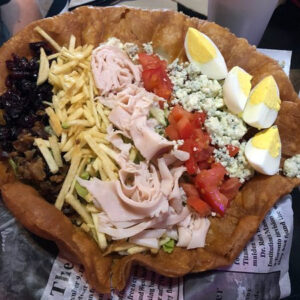 The Chop Shop
118 South Kentucky Avenue
Lakeland
(863) 603-4040
chopshopburgers.com
Latest Review: 11/27/18
Trust JeffEats on this one- delicious food!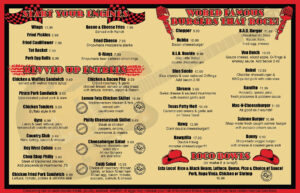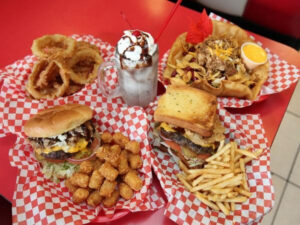 Posted on November 27th, 2018
***** The Chop Shop, 118 South Kentucky Avenue, Lakeland, Florida 33801, (863) 603-4040.
Got a real good burger/sports bar joint for you guys to checkout- The Chop Shop In Lakeland.
Simple tale to tell- order at counter-food delivered to table, booth/counter/inside and outside table seating, reasonably priced menu featuring burgers/ salads/ sandwiches/ hot dogs/ subs/ wings, beer/wine/full liquor bar, loads of flat screen tvs, pool table, old license plates on the wall decor, open Sunday-Wednesday 11am-9pm/ Thursday-Saturday 11am-11pm.
Last night Jeff Eats, Mrs. Jeff Eats, Daughter Jeff Eats and Son Jeff Eats did dinner at The Chop Shop and I must tell you guys that- we absolutely loved the joint! As a matter of fact, if The Chop Shop was anywhere near our Boca Raton abode, which unfortunately it is not- we definitely would be real steady customers!
Trust Jeff Eats on this one, homerun!
You guys can check menu/prices/info at chopshopburgers.com