DISH OF THE WEEK (Sunday- 9/27/20- Illegal Pizza- Lauderhill)
***** DISH OF THE WEEK (Sunday- 9/27/20- Illegal Pizza).
One of Jeff Eats' favorite menu items…
EVERYTHING
(11" Build Your Own Pizza- $11.99, Build Your Own Salad- $7.99, 10 Oven Baked Wings- $11.99)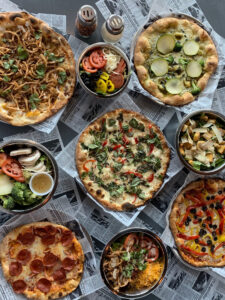 Illegal Pizza
5401 North University Drive
Lauderhill
(954) 859-1300
illegalpizza.restaurant
Latest Review: 1/10/20
You guys know the game- tons of ingredients/toppings- so it's your call on what the "thing"(pizza/salad) is gonna taste like. Throw in off the chart delicious baked wings and I'm telling you- Illegal Pizza is a real good joint to know about!
Posted on January 10th, 2020
***** Illegal Pizza, 5401 North University Drive, Lauderhill, Florida 33351, (954) 859-1300.
Got a real good pizza joint for you guys to checkout- Illegal Pizza in Lauderhill.
Simple tale to tell…yesterday afternoon- Jeff Eats and Mrs. Jeff Eats "discovered" Illegal Pizza and I gotta tell you that the joint's food absolutely killed! Unless you're a recent "visitor" from Mars you've seen the concept before- get on line and counter people build your pizza and salad per your order, table/hi-top window counter seating, pizzas and salads delivered to tables.
Like I said 2 seconds ago, the food absolutely killed…I'm kinda thinking that the combination of super fresh top-notch ingredients and a gas stone oven- and not Jeff Eats or Mrs. Jeff Eats' "culinary" skills were primarily responsible for the dynamite 11" pizzas and salad that were delivered to our table!
You've seen the "concept" before- Illegal Pizza's execution was 100% right on the money!
For you guys who like more flesh on the review-bone, Illegal Pizza menu has a handful of set pizzas that you can order- same for salads, then you got build your own pizza and salad options- handful of beers, wines and some CBD infused waters.
You guys can check menu/prices/info at illegalpizza.restaurant.
Illegal Pizza is open:
Sunday – Thursday 11am to 10pm
Friday & Saturday 11am to 11pm