Wendy's Pretzel Bacon Pub Cheeseburger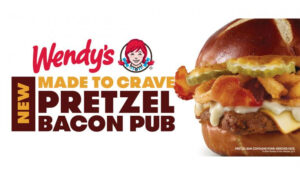 * Wendy's Pretzel Bacon Pub Cheeseburger.
I "think" that somewhere in the below story- there's a free Wendy's Pretzel Bacon Cheeseburger offer…
From qsrmagazine.com
Wendy's Pretzel Bacon Pub Cheeseburger.
WENDY'S
Wendy's introduced the Pretzel Bacon Pub Cheeseburger. After a few years out of the pretzel-bun game, the new and improved Pretzel Bacon Pub Cheeseburger has re-entered the menu. In between the soft pretzel bun lies a quarter pound of fresh, never frozen beef topped with Muenster cheese, three strips of Applewood smoked bacon, smoky honey mustard, warm beer cheese sauce, crispy fried onions, and pickles.
"We love working with our Culinary Innovation team to deliver on emerging food trends and flavors that customers can't get enough of," says Carl Loredo, CMO for The Wendy's Company. "Like we did with Spicy Nuggets, we've been watching and listening as customers have been craving for us to bring Pretzel back. We married the fervor for our former pretzel bun with the increased love for gastropub-inspired flavors and created a cheeseburger that is, in a word, unforgettable."
Made with high quality ingredients fans have come to know, love and expect from Wendy's, the Pretzel Bacon Pub Cheeseburger is a unique addition to the Made to Crave line.
"We adopted innovative techniques and ingredients you'd find at popular gastropubs and combined them with Wendy's signature high-quality ingredients to deliver this amazing new cheeseburger, the Wendy's Way," adds John Li, VP of culinary innovation for The Wendy's Company. "After our first bite into the Pretzel Bacon Pub we knew we had all the right ingredients to blow away customer expectations—even the pretzel bun fanatics —and create an experience people won't be able to stop talking about."
As if you needed another reason try it, from Friday, September 4 to Monday, September 7 customers can score a free Pretzel Bacon Pub Cheeseburger with any Wendy's purchase over $15 exclusively on Postmates with the code PRETZEL. Customers can also get the Pretzel Bacon Pub and all their Wendy's favorites delivered via DoorDash, Grubhub and Uber Eats.
Order the new sandwich via Wendy's drive-thru or contactless pickup via mobile order.
The Pretzel Bacon Pub Cheeseburger joins Wendy's Made to Crave line and is available now for $5.69. Chicken more your thing? Swap the quarter pound of fresh, never frozen beef for the Homestyle filet for $6.19.