National Chicken Wing Day- July 29th, 2020
* National Chicken Wing Day- July 29th, 2020.
If you check- there are a ton of deals out there…
That said- The one that really caught my eye…
From thrillist.com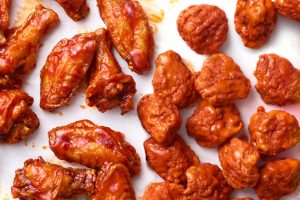 Applebee's Has Buy-One-Get-One-Free Wings for Wing Day
Celebrate National Chicken Wing Day with an abundance of wings.
By Dustin NelsonPublished on 7/27/2020 at 6:00 PM
applebee's national chicken wing day deals
COURTESY OF APPLEBEE'S
National Chicken Wing Day on July 29 lacks the significance of basically any holiday at all. Nonetheless, the faux holiday (hauxliday?) is bringing the heat in 2020. That's both figurative and literal. You can get buffalo wings, but there are also so many wing deals this year that if you took advantage of them all you'd become Thanks to chickens.
Buffalo Wild Wings, Wingstop, Wing Zone… these are the expected hubs. The ones that have "wing" in their name. But Applebee's is also jumping into the thigh-shaped ring on National Chicken Wing Day. You can grab buy-one-get-one-free (BOGO) wings for delivery or to-go orders at Applebee's all over this fair land. All you've got to do is use the code "WINGDAY" while ordering, and you'll get double the wings in your choice of boneless or bone-in. The offer is only going to be around for a single day, though.
The deal is available on wings tossed in Classic Hot Buffalo sauce as well as Asian Chili or Honey BBQ. The wing slinging chain is going to let you combine flavors, too. So, you can get one order with Classic Hot Buffalo sauce and then drop Asian Chili on the second.
However, you have to order through Applebees.com or the chain's mobile app, which does mean you have to sign up for an account on the Applebee's site if you don't have one already. The BOGO offer won't work unless the code is applied with an account attached. You can't get the deal for dine-in or through a third-party delivery app. Yes, there are still some Applebee's dining rooms open. If you're considering dining in, take a look at what the restaurant is doing to prevent the spread of COVID-19. Its policies do not include a requirement for guests to wear masks. Though, the take out policy for one day is going to land you a bunch of bonus wings
From fsmrmagazine.com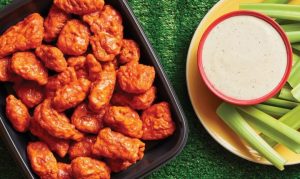 Applebee's Offering BOGO Deal for National Chicken Wing Day
JULY 27, 2020
This Wednesday is all about customers with the arrival of National Chicken Wing Day. To make sure you celebrate in style, Applebee's is offering guests a Buy One, Get One Free for To Go or Delivery on any of its wing options on July 29 in honor of National Chicken Wing Day. Valid for online orders only, you can head to Applebees.com or order via the Applebee's mobile app (iOS, Google) for Carside To Go or Applebee's Delivery where available. But you better get to it quick, because the offer is for one day only.
Plus, whether it's for To Go or Delivery, Applebee's has got you covered – just add your choice of wings to your cart and enter the coupon code WINGDAY at checkout. Applebee's wings are served with ranch dressing and celery on the side and are tossed in your choice of sauce – Classic Hot Buffalo, Sweet Asian Chili or Honey BBQ. And you can customize sauce by wing order. So guests could get an order of Boneless Wings in Classic Hot Buffalo and one of Double Crunch Bone-In Wings in Sweet Asian Chili, or even two orders of Boneless Wings with one in Honey BBQ and the other in Classic Hot Buffalo.
"We know that for real wing fans, every day is chicken wing day, but we are excited to give our guests an excuse to celebrate our most popular menu item," says Joel Yashinsky, chief marketing officer at Applebee's. "And with two times the wings for the price of one, you can't beat this deal."
While this deal is for Delivery and To Go only, if you are planning a visit to your neighborhood Applebee's restaurant, more details on Applebee's safety-first dining experience can be