Win A $50 Madisons New York Grill & Bar Gift Card (Boca Raton)
This contest started on 7/2/20. This contest has a winner.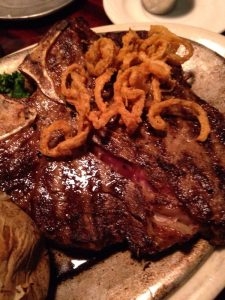 * Win A $50 Madisons New York Grill & Bar Gift Card.
Jeff Eats got a $50 Madisons New York Bar & Grill Gift Card to give to one of you guys!
The game- the first 30 "reader-comments" received – will be entered in a "blind hat pick"! You can submit as many comments as you'd like but- Please, only 1- reader comment – per day…play fair!
The $50 Gift Card is good at Madisons New York Grill & Bar, 2066 Northwest Executive Center Circle, Boca Raton, Florida 33431, (561) 994-0808- (check menu, location, info at madisonsnewyork.com).
Posted on April 9th, 2015
***** Madisons New York Grill & Bar, 2066 Northwest Executive Center Circle, Boca Raton, Florida 33431, (561) 994-0808.
Jeff Eats is gonna label Madisons New York Grill & Bar- one of the best American-Style joints in South Florida!
Just had lunch at this American-Style joint and I am telling you that the food-service-prices were all-right on the money!
The full-rack of bbq baby-back ribs (with a baked potato) that I had- was absolutely delicious…Mrs. Jeff Eats' Caesar salad and cheeseburger/French fries were also delicious.
Jeff Eats first told you guys about Madisons on 1/4/14…somethings bear repeating- so here goes…
January 4, 2014
***** Madisons New York Grill & Bar, 2066 Northwest Executive Center Circle, Boca Raton, Florida 33431, (561) 994-0808.
Last night, Jeff Eats and Mrs. Jeff Eats and a couple of friends gave "American-Style" Madisons New York Grill & Bar in Boca Raton a shot–and I gotta tell you, the joint literally blew our socks-off. No fooling around here…Madisons food and service were terrific!
Real quick, Madisons is a Canadian based restaurant chain that currently owns/operates 14 restaurants in Quebec, 1 in Boca Raton and has 1- under construction in Pompano Beach. If you think–Houston's, J. Mark's and J. Alexander's you'll be on the right décor page. The Boca Raton joint opened about 1-week ago, in a completely renovated building that at one time or another housed California Pizza Kitchen, Wolfie Cohen's Rascal House, Copper Canyon Grill and Stephane's Steak & Seafood. The restaurant has both indoor/outdoor patio seating and a separate full-bar area with something like 9 flat screen tvs.
As I mentioned 16 seconds ago, Madisons' food and service were terrific…no ifs or buts, but the guys who own Madisons-know how to run a restaurant. Every dish that hit our table was exactly as ordered, glasses were continuously refreshed by Dave "The" Waiter-and during the evening we were "visited" by GM-Charles, Front Of The House Manager-Juan and Owner-Steve. Just so you know, Jeff Eats' eagle eye caught- that every table in our section got the exact-same management treatment.
Let's talk food…
Real simple menu–8 appetizers ($8-17), 6 meal salads ($15-$20), 5 sandwiches/burgers ($14-$18), 12 entrees ($16-$37), handful of salads/sides ($4-$8), handful of desserts ($5-$8).
Our table "had"–Three Cheese Garlic Bread, House Salad, Mykonos Style Greek Salad, Quinoa Caprese Salad, Cheeseburger With French Fries, Crab Cake Sandwich, Baby Back Ribs, Key Lime Pie, Brownie With Vanilla Ice Cream…everything was delicious. Just so you know, the garlic bread appetizer easily fed 4-people, the salads and desserts large enough for 2-people to share.
For you-guys who like more "review detail"…the French fries weren't as delicious as everything else–but Owner-Steve told me, that fresh-handcut fries would soon be replacing the frozen product being used. I must tell you-that the garlic bread appetizer topped with melted Monterey Jack/cheddar/parmesan cheese was off-the-chart. To be perfectly honest, 2-orders of that garlic bread with a 2-liter bottle of ice-cold Coke and Jeff Eats could do some serious damage to himself…a definite must order.
Look! I could go on and on–as to how the ribs were basted with a delicious sweet bbq sauce, or how the crab cakes were loaded with crab (what else?) with virtually no filler, or how the cheeseburger which came on a lightly toasted bun-was topped with shredded lettuce/tomato slice/pickles spears and a mustard/ketchup/mayo dressing, but I won't.
At this stage of the game, you may want to check www.madisonsnewyork.com for menu/prices.
The truly amazing thing about Madisons was that the service was impeccable…to be honest with you, Jeff Eats went into this thing-thinking a hiccup or two, afterall it was a brand new joint…but au contraire (hey! I told you that the chain is out of Quebec!)—the food and service couldn't have been better.
Let me wrap this all up for you,
Madisons is going to be a huge winner. Mark these words–perfect for the business lunch crowd–perfect for the happy hour crowd–perfect for both Boca Raton's young families and its 55+ crowd.
No question in Jeff Eats' mind, Madisons can definitely hold its own against local "American Style" players–The Cheesecake Factory, Houston's and J. Alexander's.
A cursory "menu-look" found Madisons' price-points $2-$5 lower than its "next door" neighbor Houston's…..Hey! I already told you- The guys who own this joint know how to run a restaurant.
One final thought, a little bird told Jeff Eats that Madisons owns the Boca Raton property/building–so, to paraphrase poet Ernest Henley – Madisons is the master of its fate, captain of its soul (I know, I know a bit dramatic).
Madisons is open Monday-Sunday 11am-11pm.