$5 Roasted Chicken (The Fresh Market- Boca Raton)
***** $5 Roasted Chicken.
Real simple tale to tell you guys- this Coronavirus situation finds- Jeff Eats and Mrs. Jeff Eats "shopping" in stores that we previously didn't frequent all that much…
That being said, every Thursday- The Fresh Market (5540 North Military Trail, Boca Raton, Florida 33496, (561) 994-2221) prepares in-house $5 roasted chickens that absolutely kill! Now- you guys know (or should know by now) that this Jeff Eats' gig is purely a subjective ride- you know, what I like you may hate and vice versa…in the case of The Fresh Market $5 Chicken- like The Three Bears, it was just right- not too salty, not too fatty, not too- I'm kinda thinking that you get the point!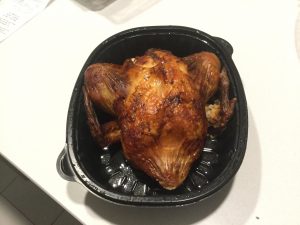 You guys can check thefreshmarket.com for store locations/product info.