DISH OF THE WEEK (Sunday- 5/3/20- Subpreme Grill- Homestead)
***** DISH OF THE WEEK (Sunday- 5/3/20- Subpreme Grill).
One of Jeff Eats' favorite menu items…
STEAK CHICKEN SUB
(12"- $8.39)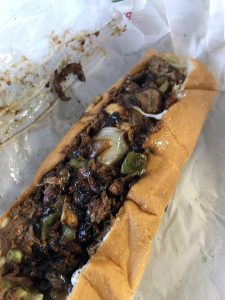 Subpreme Grill
15260 Southwest 280th Street
Homestead
(786) 243-1604
Latest Review: 5/17/19
If this joint was anywhere near Jeff Eats and Mrs. Jeff Eats' Boca Raton abode (which unfortunately it isn't) – we would be real and I do mean REAL steady customers!
Posted on May 17th, 2019
***** Subpreme Grill, 15260 Southwest 280th Street, Homestead, Florida 33032, (786) 243-1604.
Got an absolutely dynamite sub joint for you guys to checkout- Subpreme Grill in Homestead.
Simple story…yesterday afternoon, Jeff Eats and Mrs. Jeff Eats "found" Subpreme Grill and I gotta tell you- that based on the delicious subs that we fressed- in order to be closer to Subpreme Grill, we are thinking of moving from Boca Raton to Homestead (I also-got a bridge in Brooklyn I'd like to sell you!)- that said, trust me when I tell you that, Subpreme Grill makes off the chart delicious hot & cold subs, order-pickup at counter, handful- of tables/counter seating, open 7 days a week from 8am-9pm.
Now, we all know that this Jeff Eats' "gig" is just one big subjective call- what I like, you may hate and vice versa. That said, I kinda think I know my "subs" and I'm telling you guys, this Subpreme Grill joint's stuff absolutely killed!
Let me wrap-up Subpreme Grill by saying, if this joint was even remotely close to our Boca Raton abode, Jeff Eats and Mrs. Jeff Eats would definitely be big time steady customers!