South Florida-based TooJay's files for bankruptcy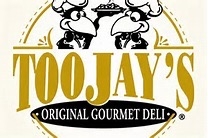 * South Florida-based TooJay's files for bankruptcy.
For years I've known that TooJay's food was average at best- that said, I didn't see this one coming…
_________________
wptv.com/lifestyle/food/south-florida-based-toojays-files-for-bankruptcy
South Florida-based TooJay's files for bankruptcy
TooJay's operates 16 locations in Broward, Palm Beach counties
By: Peter Burke
Posted at 6:20 PM, Apr 29, 2020 and last updated 6:26 PM, Apr 29, 2020
WEST PALM BEACH, Fla. — A popular South Florida-based deli has filed for bankruptcy.
TooJay's, which operates 16 locations in Broward and Palm Beach counties, on Wednesday announced the decision to file for Chapter 11 bankruptcy protection in a statement from president and CEO Maxwell Piet.
Piet called the decision "the best path forward" for TooJay's. He went on to say it is "the direct result of the devastating economic impact of the COVID-19 pandemic on our restaurants throughout Florida."
"This course of action will enable us to remain open to serve our communities with the same great food and service we are known for," the statement said. "As we learn of the reopening plans for our dining rooms, we will rehire more employees and expand our services as restrictions allow."
Gov. Ron DeSantis announced a tiered reopening plan for the state Wednesday, but it excludes South Florida.
South Florida is the epicenter of the coronavirus outbreak, with more than 17,000 confirmed cases and hundreds of death.
TooJay's opened in 1981 with a single location in Palm Beach. Other locations in Palm Beach County include Boca Raton, Boynton Beach, West Palm Beach, Palm Beach Gardens and Jupiter.
______________________
Posted on December 31st, 2015
***** TooJay's Original Gourmet Deli.
A recent e-mail received by Jeff Eats.
Hey Jeff,
My husband and I recently moved to Boca from Philadelphia.
We have eaten in the Too Jays located by Boca Town Center several times and love its food.
I recently came across your Too Jays' April 28, 2009 review and couldn't disagree more.
Just curious, have you changed your opinion during the past 6 years?
Anna G
________
Anna G:
The answer to your question is NOPE!
Jeff Eats has eaten in TooJay's a number of times since that April 28, 2009 "story" first appeared- and I haven't changed my opinion one iota!
Just so you know, "food reviewing" is nothing but a big game- what I like, you may hate and vice versa. Trust me, there is no right or wrong in this game.
If you like TooJay's, I got no problem. That said, may I humbly suggest that you try "some" of the other New York Kosher Style Delis/Kosher Delis "mentioned" by Jeff Eats and see if just- maybe I'm onto something- when I tell you that TooJay's food is nothing great, but nothing too terrible either!
Jeff Eats' April 28, 2009 "story" is printed- down below…
Thanks for reading…
_______
TooJay's Original Gourmet Deli (Boca Raton)
Posted on April 28th, 2009 · American Delicatessen Boca Raton
***** TooJay's Original Gourmet Deli, 3013 Yamato Road, Boca Raton, Florida 33496, (561) 997-9911.
TooJay's is a "New York Style" deli…which has 27 locations in Florida. If you check its website www.toojays.com in addition to menu/prices you will find a listing of locations.
Just so we are straight…TooJay's is not a top-notch deli in the same vein as joints like Pastrami Queen, Ben's Kosher Deli or Pomperdale Deli. Simply put, TooJay's serves decent enough food at very reasonable prices. Nothing great, but nothing terrible.
Over the past 16 years, I must have eaten in/taken-out from a TooJay's something like 25-30 times…let's just say, that convenience more than anything else was the "reason why"…as there are 3- locations all within 5 minutes of my home.
Let's sum this one up…NY style deli, loads of appetizers, soups, salads, sandwiches, meat/chicken/fish entrees and desserts…decent food…reasonable prices. When I "think" TooJay's I think white bread…not rye bread.
TooJay's is open 7 days a week for breakfast-lunch-dinner.