Win A LATTEE LARRY'S Stoneware Mug
This contest started on 3/20/20. This contest has a winner.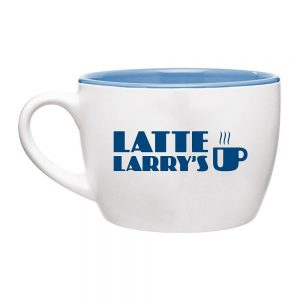 * Win A LATTE LARRY'S Stoneware Mug.
Jeff Eats got a LATTEE LARRY'S stoneware mug to give to one of you guys!
The game- the first 20 "reader-comments" received – will be entered in a "blind hat pick"! You can submit as many comments as you'd like but- Please, only 1- reader comment – per day…play fair!
By the way- the stoneware mug holds 12 oz of either hot or cold beverage and features a glossy white exterior and glossy blue interior. Measures approximately 3.37″ H x 4.75″ W.