Krush Band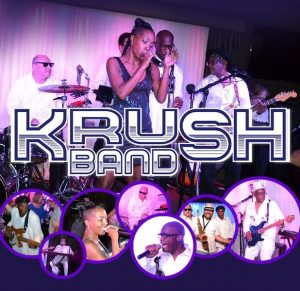 * Krush Band.
A recent e-mail from long time Jeff Eats' reader, Lo Lo…
Hey Jeff,
My husband and I love jeffeats.com.
You really have the pulse on the food and entertainment scene in South Florida.
We would really appreciate your help on this one.
Our 30th wedding anniversary is coming up in October, 2020.
We are looking for a top party band to play the event at our country club in Boca Raton.
We will be having over 250 guests aged 20-90 so a band that can play 'everything' would be the perfect pick.
Thanks for the help,
Lo Lo
_______
Lo Lo,
Happy Anniversary!
Got a terrific party band for you guys to check-out, Krush Band- based in Coral Springs which has been around for something like 15 years. Trust Jeff Eats on this one, Krush Band will absolutely kill.
You guys can check-out Krush Band at krushpartyband.com- the band has a number of complimentary March & April, 2020 South Florida dates on its schedule.
Once again, Happy Anniversary!
Thanks for reading…
Jeff Eats