Comedian- Ahmed Ahmed (Boca Black Box- Boca Raton)
Just checked the Boca Black Box box-office (bocablackbox.com) and goldstar.com (discount tickets) and there are a real good handful of great seats still available for Comedian- Ahmed Ahmed's Friday, February 21st, 2020 (8pm) show…trust Jeff Eats when I tell you that this guy puts on an absolutely hilarious show and is not to be missed…
Posted on February 13th, 2020.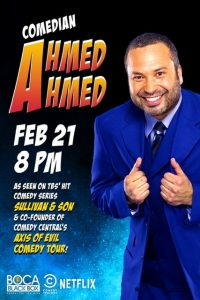 * Comedian- Ahmed Ahmed.
Tickets just went on sale.
Trust Jeff Eats on this one- you guys don't want to miss Ahmed Ahmed…
Just a taste…
The Skinny:
Comedian- Ahmed Ahmed
Friday, February 21, 2020 (8pm)
Boca Black Box
8221 Glades Road Suite #10,
Boca Raton, Florida 33434
Box Office: 561.483.9036
Tickets: bocablackbox.com
goldstar.com for discount tickets
from bocablackbox.com
Ahmed Ahmed is one of the funniest comedians in the world . Don't miss out on this quality comedic talent as he takes the comedy stage inside THE BOX!
Egyptian-American actor, comedian, producer, and director Ahmed Ahmed is one of the most diverse, multi-faceted talents in the entertainment industry today. Ahmed exploded onto the scene when he co-founded the 'Axis of Evil' Comedy Tour, which aired on Comedy Central as the first ever Middle Eastern stand up comedy special. He then made his directorial debut with his groundbreaking documentary Just Like Us, currently on Netflix.
In 2014, he can be seen starring as "Ahmed" on TBS' hit comedy series Sullivan & Son. Executive Produced by Vince Vaughn, the series ran for 3 seasons accompanied by a national tour with the cast comedians. Prior to this Ahmed was one of the stars of Ashton Kutcher's 'Punkd' where his comedic acting talent was on display where he helped 'punk' some of the worlds biggest celebrities!
Ahmed is a true believer that laughter heals, and that comedy can bridge the gap between communities across the world. He is currently residing in Asia and believes that this is the new 'Laugh Frontier'TM.