National Touring Headliner Comedian- Dan Naturman (Mizner Park Cultural Center- Boca Raton)
Just checked the Mizner Park Cultural Center box-office (miznerparkculturalcenter.com) and there are some really good seats left for Dan Naturman's Friday, February 14th, 2020 (7:30pm) show…trust Jeff Eats on this one- Naturman is one of the funniest most brilliant comedians currently working America's comedy club/ convention/ casino/ resort circuit. Do yourself a huge favor- go see Naturman…
Post on June 26th, 2019
* National Touring Headliner Comedian- Dan Naturman.
Tickets just went on sale.
Trust Jeff Eats on this one, Naturman is one of the funniest-most brilliant comedians in the business!
Don't miss this rare Florida appearance!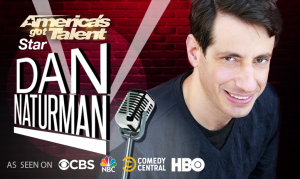 The Skinny:
Dan Naturman
Friday, February 14th, 2020 (7:30 pm)
Mizner Park Cultural Center
201 Plaza Real
Boca Raton, Florida 33432
Box Office: (844)-672-2849
Tickets: miznerparkculturalcenter.com
from miznerparkculturalcenter.com
Hot off another killer spot on Conan (where he is one of Conan O'Brien's favorites guests), comedian Dan Naturman – who is also known to his fans as the "real winner" of NBC's Last Comic Standing 2, where he was the favorite of celebrity "judges" Drew Carey and Brett Butler – will be perfoming live at the Mizner Park Cultural Center!
Dan began performing stand-up comedy several years ago in, believe it or not, law school. After graduation, he decided to devote himself to stand-up full time. Comedy, he discovered, was his true passion. Besides, his grades were bad and nobody would hire him. Dan's charming combination of self-deprecation and outright grouchiness has had audiences howling from coast to coast and has earned him four appearances on The Late Show with David Letterman, The Late Late Show with Craig Ferguson, The Tonight Show, Late Night with Conan O'Brien, his own "Comedy Central Presents…" Special, and a starring run on NBC's America's Got Talent. Currently, Dan has a recurring role on HBO's newest hit, "Crashing" and multiple appearances on Comedy Central's "This Week at The Comedy Cellar." More great comedy to follow – that you can be sure of!