National Touring Headliner Comedian- Jeff Norris (Mizner Park Cultural Center-Boca Raton, Delray Beach Playhouse-Delray Beach)
1:37pm- Just checked the Mizner Park Cultural Center box-office (miznerparkculturalcenter.com) and goldstar.com (discount tickets)- and there are only 4-seats still available for tonight's Jeff Norris (Friday- January 24th, 2020) show…Norris' 1/22/20 Delray Beach Playhouse was SRO! Trust Jeff Eats on this one, this guy Norris is absolutely terrific. Norris who "works' clean will have you peeing your pants from laughter all night long. Don't miss him!
Posted on July 13th, 2019.
* National Touring Headliner Comedian- Jeff Norris.
Tickets just went on sale…
One of America's funniest "clean" comedians…
Trust Jeff Eats on this one, Jeff Norris is an absolute must see!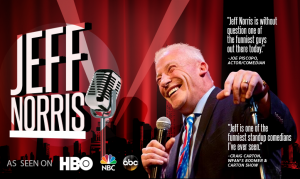 The Skinny:
National Touring Headliner Comedian- Jeff Norris
Wednesday, January 22, 2020 (12:30pm)
Delray Beach Playhouse
950 NW 9th St. Delray Beach, FL 33444
Box Office: (561) 272-1281 Ext. 5
Tickets Online: delraybeachplayhouse.com
(ticket includes catered lunch by Too Jay's Deli*Bakery*Restaurant- toojays.com)
Friday, January 24, 2020 (7:30pm)
Mizner Park Cultural Center
201 Plaza Real
Boca Raton, Florida 33432
Box Office: (844)-672-2849
Tickets: miznerparkculturalcenter.com
from miznerparkculturalcenter.com
Jeff Norris is without question one of the funniest guys out there today." -Joe Piscopo, Actor/Comedian
Jeff Norris is an energetic whirlwind of comedy. He is a favorite in both Atlantic City and Vegas. He has also most recently partnered with Royal Caribbean Cruise Lines. Over the years, Jeff has appeared on numerous TV and film roles including HBO's Boardwalk Empire and OZ, Good Morning America, My Super-Ex Girlfriend, and Not Fade Away.
"Jeff is one of the funniest stand-up comedians I've ever seen." -Craig Carton, WFAN's Boomer & Carton Show
Jeff is one of the most quick-witted acts working today–hardly pausing for a breath as he tears through his act, keeping the audience alert and in stitches from beginning to end. Jeff has been called a complete pro–one of the few remaining comics that understands the importance of showmanship and presentation.
Jeff works tirelessly in support of many charities and fundraising events. Jeff has helped raise more than $180,000 for the victims of Hurricane Sandy and more than $150,000 for the K9s for Warriors whose mission is to aid those warriors suffering from PTSD. In addition to the multiple groups he supports, Jeff was recently recognized by the NJ State Police for his work in support of the Troopers Assisting Troops for Wounded Warriors (the T.A.T. Program).