Win 2 Tickets- Jefferson Starship (Sport of Kings Theater at Gulfstream Park Racing and Casino- Hallandale Beach)
This contest started on 12/27/19. This contest has a winner.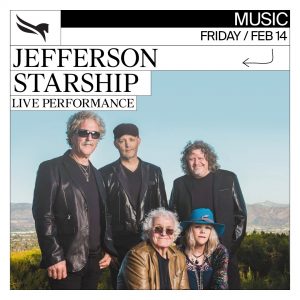 * Win 2 Tickets- Jefferson Starship.
Jeff Eats got 2 tickets- to give to one of you guys to see- Jefferson Starship at- Sport of Kings Theater at Gulfstream Park Racing and Casino, 901 Federal Highway, Hallandale Beach, Florida on Friday, February 14th, 2020 (8pm)
The game- the first 35 "reader-comments" received – will be entered in a "blind hat pick"! You can submit as many comments as you'd like but- Please, only 1- reader comment – per day…play fair.
Posted on December 9th, 2019
* Jefferson Starship.
Just announced…
Jefferson Starship
Friday, February 14th, 2020 (8pm)
Sport of Kings Theater at Gulfstream Park Racing and Casino
901 Federal Highway, Hallandale Beach, Florida 33009
Tickets Online: seasidemusicmgmt.com ($25-$75)
All I can tell you guys- in one form or another, one of the greatest Rock N Roll bands of all time- and I do mean of all time!
Jeff Eats and Mrs. Jeff Eats will be there…
About The Event:
The Sport of Kings Theater offers an intimate concert experience with six levels of seating for 850 guests. Located on the 2nd floor of the Gulfstream Park Clubhouse, Sport of Kings is the perfect venue to see the show up close and personal. View the show in style from the VIP section including cocktail tables, beverage and food service.
About The Band:
Jefferson Starship rose from the ashes of another legendary San Francisco band, Rock and Roll Hall of Fame Inductees, Jefferson Airplane.
Founder Paul Kantner (who died in January 2016 at age 74) knew that combining powerful creative forces, personalities and talents could create something far greater than the sum of its parts.
Between 1974 and 1984, Jefferson Starship released eight gold and platinum albums, twenty hit singles, sold out concerts worldwide and lived out legendary rock and roll escapades.
"Jefferson Starship was my creation…and it has this nice fluidity about it that allows any number of people to come in and do things with whatever Jefferson Starship is." – Paul Kantner
Today's Jefferson Starship remains dedicated to breathing new life into the living catalog of the Jeffersonian legacy, going to the edge, pushing the sonic boundaries and staying true to the original spirit of the music.
Featuring original and historic members David Freiberg (also a founder of San Francisco luminaries Quicksilver Messenger Service) and drummer Donny Baldwin, along with longtime members Chris Smith on keyboards and synth bass, Jude Gold on lead guitar and GRAMMY Nominee Cathy Richardson anchoring the female lead vocal spot made famous by the inimitable Grace Slick (who invited her to sing in her place as Jefferson Airplane accepts their Lifetime Achievement Award at the GRAMMY Merit Awards Concert.)
The band keeps a hectic touring schedule bolstered by several television recent appearances including My Music: 60s Pop, Rock and Soul on PBS and live with the Contemporary Youth Orchestra on AXS Network. The Freiberg-penned 1979 hit Jane is the theme song for the Netflix Original Series Wet, Hot American Summer. In 2014-15, the band played a series of free concerts for America's Veterans and was awarded a Certificate of Appreciation from the US Department of Defense. Jefferson Starship has traveled the world playing in 20 countries across the globe in the last 3 years alone.
The music that defined a generation and spanned decades is alive and well and more relevant than ever in pop culture- songs such as Volunteers, White Rabbit, Wooden Ships, Somebody to Love, Today, Miracles, Count on Me, Fast Buck Freddie, Jane and Find Your Way Back continue to reverberate throughout the collective consciousness today.