Cookie Pop Oreo Popcorn (Sam's Club)
Posted on January 16th, 2020
* Cookie Pop Oreo Popcorn.
Just wanted to keep you guys in the loop…
You can thank me later for the heads-up…
A 20 ounce bag is gonna run you & me $5.98.
Check samsclub.com for store locations/info.
Happy National Pop Corn Day-
Sunday, January 19th, 2020!
_________________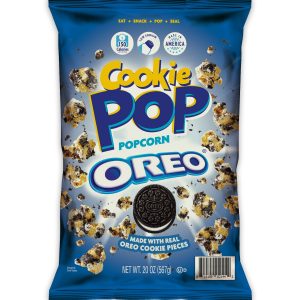 Popcorn & Oreo lovers REJOICE!
By NBC | Posted: Thu 2:23 PM, Jan 16, 2020
Popcorn & Oreo lovers REJOICE!
Sam's Club is set to roll out a new candy popcorn addition right in time for National Popcorn Day this Sunday: Oreo Popcorn!
The Cookie Pop Oreo Popcorn will launch exclusively at Sam's Club locations nationwide next week.
The new popcorn comes in a 20 ounce bag and is drizzled with the cream filling from the middle of the Oreo, and covered in crushed Oreo cookies.
This new flavor joins Candy Pop Butterfinger Popcorn and Candy Pop Twix Popcorn, also sold at Sam's Club.
Copyright 2020 NBC News. All rights reserved.