Michael D'Amore: Lead Singer Of The Capris-The Very Best Of The 50's & 60's Hits (Delray Beach Playhouse- Delray Beach, Mizner Park Cultural Center- Boca Raton)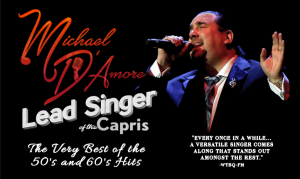 * Michael D'Amore: Lead Singer Of The Capris-The Very Best Of The 50's & 60's Hits
If you wanna see an absolutely great singer- who in addition to being The Capris' lead singer- is currently a nominee for the East Coast Music Hall of Fame's -2020 Best Music Maker Male Singer Award…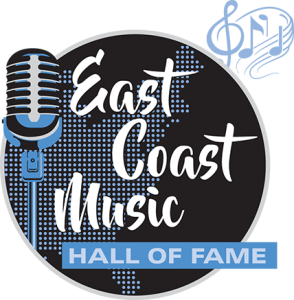 The Skinny:
Michael D'Amore: Lead Singer Of The Capris-The Very Best Of The 50's & 60's Hits
Wednesday, March 11th, 2020 (12:30pm)
Delray Beach Playhouse
950 NW 9th St. Delray Beach, FL 33444
Box Office: (561) 272-1281 Ext. 5
Tickets Online: delraybeachplayhouse.com
(ticket includes catered lunch by Too Jay's Deli*Bakery*Restaurant- toojays.com)
Thursday, March 12th, 2020 (7:30pm)
Mizner Park Cultural Center
201 Plaza Real
Boca Raton, Florida 33432
Box Office: (844)-672-2849
Tickets: miznerparkculturalcenter.com
Just a taste…
from miznerparkculturalcenter.com
Don't miss singer, songwriter, and member of The Capris, Michael D'Amore, as he takes you on a musical journey of the very best hits from the 50's and 60's!
For more than 30 years, Michael D'Amore has been a professional entertainer based out of the New York metropolitan area. Having performed in several genres, Michael eventually found himself drawn to the harmony of the Classic R&B and Doo-Wop sounds.
Michael currently performs his one-man show showcasing the best of the 50's and 60's. He is also a member of The Capris and proud to sing lead on the their hits "There's A Moon Out Tonight" and "Morse Code Of Love" for music fans around the world.
He has opened for and shared the stage with groups such as The Stylistics, Lou Christie, John Cafferty, The Loving Spoonful, The Grass Roots, Kenny Vance and the Planotones and so many groups he has admired over the years.