DISH OF THE WEEK (Sunday- 1/12/20- Subs 88- Miami/Kendall)
***** DISH OF THE WEEK (Sunday- 1/12/20- Subs 88).
One of Jeff Eats' favorite menu items…
KENDALL CLUCKER
($8.99- breaded chicken cutlet/ smoked Applewood bacon/ Muenster cheese/ lettuce/ tomato/ 88 sauce- on a toasted Kaiser roll)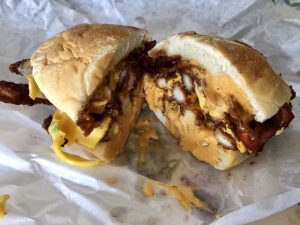 Subs 88
9895 Southwest 88th Street
Miami/Kendall
(786) 431-1294
Latest Review: 10/27/18
All I can tell you guys is that if Subs 88 was closer to Jeff Eats and Mrs. Jeff Eats' Boca Raton abode- we would be real (and I do mean REAL) steady customers!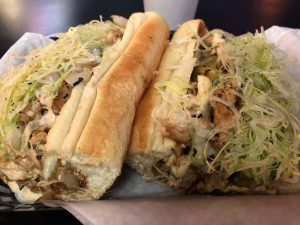 Posted on October 27th, 2018
***** Subs 88, 9895 Southwest 88th Street, Miami, Florida 33176, (786) 431-1294.
Got a real good sub joint for you guys to checkout, Subs 88 in Miami.
Real simple tale to tell- hole in the wall, order/pickup at counter, breakfast stuff/ hot & cold subs & sandwiches/ salads/ burgers, inside window counter seating/ handful of outside hi-tops…
Real simple tale continued- yesterday afternoon Jeff Eats had to take care of some business down in Kendall and three of my business associates (I know- How You doin'?) took me to Subs 88 for lunch- and I gotta tell you guys, the joint's stuff blew me away! No bs- I am telling you that Subs 88's food was absolutely off the chart delicious!
Subs 88 is a winner! If you live, work or play in Kendall, definitely give it a shot!