Motown Magic- The Ultimate Motown Tribute (Boca Black Box- Boca Raton)
Just checked the Boca Black Box box-office (bocablackbox.com) and goldstar.com (discount tickets) and there are only a handful of tickets left for Motown Magic's Saturday, December 28th, 2019- 7pm & 9pm shows. So if you wanna go and don't yet have tickets- time to make your move…
Posted on August 20th, 2019
* Motown Magic- The Ultimate Motown Tribute.
If you wanna see one of the best Motown Tribute acts in the business…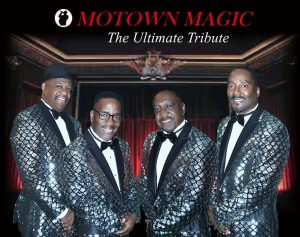 The Skinny:
Motown Magic- The Ultimate Motown Tribute
Saturday, December 28th, 2019 (7pm & 9pm)
Boca Black Box
8221 Glades Road #10 Boca Raton, FL 33434
Phone: 561.483.9036
Box Office: bocablackbox.com goldstar.com (discount tickets)
from bocablackbox.com
MOTOWN MAGIC- The Ultimate Motown Tribute
Performance Date: Saturday, 12/28/2019, 7:00 pm & 9pm
Take a night down memory lane and enjoy the greatest soul HITS with MOTOWON MAGIC!
Motown Magic consists of 4 world class vocalists and 6 top notch musicians.
Some of the Greatest music ever written….All the greatest Motown hits!
Motown Magic takes you back to great memories and good times with hits from:
The Temptations, Marvin Gaye, Smokey Robinson, The Four Tops, The Jacksons,
The Commodores, Lionel Richie, And Many, Many More.
This All Ages show features some of the greatest vocalists and musicians in the
Motown genre. The World Class Showmanship and Vegas Like atmosphere will leave you simply amazed!
Fantastic Music, World Class Showmanship, Hilarious Antics. This one can't be missed!