The Sweet-Tarts at Modern Sixties Wine Lounge (Fort Lauderdale)
* Modern Sixties Wine Lounge, 1828 East Sunrise Boulevard, Fort Lauderdale, Florida 33304, (954) 616-5216.
For you guys who for some strange reason "like" to follow Jeff Eats and Mrs. Jeff Eats' social calendar…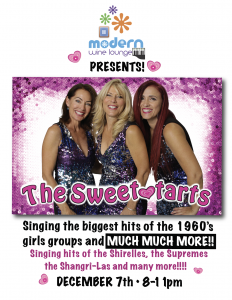 The plan:
Terrific girl group doing the hits of the 50's, 60's, 70's- at Modern Sixties Wine Lounge an absolutely dynamite joint- tons of wines and craft beers, delicious tapas and desserts- presenting a continuous lineup of top notch music entertainers!
You guys can check menu/prices/entertainment schedule/reservations/info at modern60s.com.