Peter Fogel's- 'Til Death Do Us Part…You First! (Herb Skolnick Center- Pompano Beach)
* Peter Fogel's- 'Til Death Do Us Part…You First!
Jeff Eats and Mrs. Jeff Eats have seen the show twice- and I'm telling you, off the chart funny!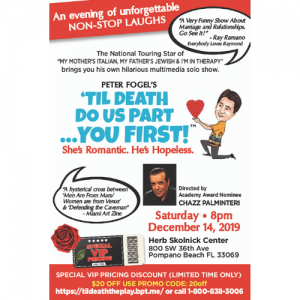 Event
Peter Fogel's "Til Death Do Us Part… You First!" Directed by Academy Award Nominee CHAZZ PALMINTERI
LIMITED TIME OFFER! SPECIAL VIP PRICING $20 OFF Use Promo Code 20off at checkout!
A HYSTERICAL EVENING of LAUGHS for Single, Devoted or Divorced Couples
Eternal Bachelor, Peter Fogel, in his 50's, and has MAJOR commitment issues.
Its the holidays, and Fogel is looking forward to a romantic evening with his girlfriend. Instead, she dumps him. Distraught and confused, and sensing his own mortality, he revisits the scene of all of his romantic disasters.
Fogel Admits The longest relationship I've ever had in my entire life is with T-Mobile!
And, with that decision, he brings you his autographical tale of a comedians Quixote quest to finally search for the one woman who can transform his life with his hysterical multi-media solo show, TIL DEATH DO US PART…YOU FIRST! directed by Academy Award Nominee & Three-Time Emmy Award Winner CHAZZ PALMINTERI
(A Bronx Tale, Bullets over Broadway, The Usual Suspects)
From the trials and tribulations of love and marriage to online dating, Fogel mixes his signature wit with riotous relatable characters and takes us on a whirlwind comedic journey of searching, finding and eventually surrendering to his soulmate!
TIL DEATH DO US PART…YOU FIRST! is "Men are From Mars/Women are From Venus" meets "Defending the Cavemen!"
Young or old, divorced or married if you've ever been single (and that's everyone) and want to experience (again) the feeling of finding that special person to spend the rest of your life with, then you'll want to fasten your seat belt for 75 minutes of non-stop laughs with Peter Fogels TIL DEATH DO US PART…YOU FIRST!