Two Funny Jews With Nothing To Do! (Temple Beth Shalom- Boca Raton, Temple Shaarei Shalom- Boynton Beach)
* Two Funny Jews With Nothing To DO!
Four of America's funniest Jewish comedians are coming to- Boca Raton and Boynton Beach so Chinese food won't be the only game in town on Christmas Eve and Christmas Day…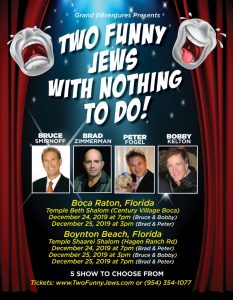 Trust Jeff Eats on this one, I've seen Smirnoff, Zimmerman, Fogel and Kelton- and they all have off the chart funny acts!
Tickets- $29, $39, $49 and $59 are available at TwoFunnyJews.com or Call (954) 354-1077.