DISH OF THE WEEK (Sunday- 10/20/19- Sandwich Inn- Gainesville)
***** DISH OF THE WEEK (Sunday- 10/20/18- Sandwich Inn).
One of Jeff Eats' favorite menu items…
BACON CHEESEBURGER
($3.79)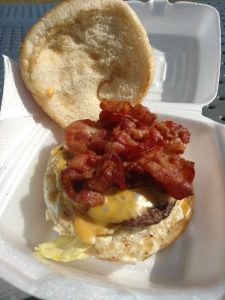 Sandwich Inn
110 Northeast 16th Avenue
Gainesville
(352) 376-0924
Latest Review: 8/28/18
Second DISH OF THE WEEK shout-out for Sandwich Inn!
Sandwich Inn is an absolute homerun joint…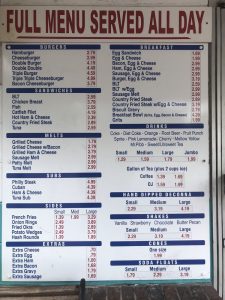 Posted on August 28th, 2018
***** Sandwich Inn, 110 Northeast 16th Avenue, Gainesville Florida 32601, (352) 376-0924.
Got a fast food- burger/ sandwich joint that you guys gotta checkout, Sandwich Inn in Gainesville.
Simple concept working here- order & pickup at walk-up window/ drive-thru, no indoor or outdoor seating, menu of very reasonably priced-breakfast items/ burgers/ sandwiches/ subs/ scooped ice cream.
Yesterday, Jeff Eats and Mrs. Jeff Eats found- Sandwich Inn and the joint's food and 1960's vibe (Sandwich Inn opened in November, 1960) blew us away! Trust me on this one, off the chart delicious stuff!
Jeff Eats and Mrs. Jeff Eats did lunch sitting in our leased ($401.25 per (36) month/10,000 miles) 2018 Hyundai Santa Fe Sport 2.OT…
Let me wrap Sandwich Inn up for you guys by saying- this joint absolutely killed! No frills, no drama- dynamite food!
Sandwich Inn is open Monday-Friday 6am-5pm/ Saturday 7am-4pm/ closed Sunday.