Reminisce (Pavilion Grille- Boca Raton)
* Reminisce.
This one is for all you guys who like to follow Jeff Eats and Mrs. Jeff Eats' "social" calendar…
Just made dinner reservations to checkout a new group- Reminisce at the Pavilion Grille on Saturday Night, November 2nd, 2019…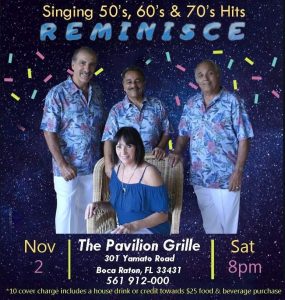 Just between you guys and Jeff Eats, I've seen all of Reminisce's members in other bands- looking forward to seeing this new "group"… Pavilion Grille is a gorgeous looking restaurant/ bar/ catering facility located in the atrium of an office building on Yamato Road in Boca Raton. Jeff Eats and Mrs. Jeff Eats have attended a number of "events" at the Pavilion and the joint's American-Style menu definitely got the job done!
This should be a real nice outing!
You can catch tickets/reservations/more info at paviliongrille.com and at (561) 912-0000.