The Joke's On You! Comedy Tour- Fletcher, Nelson, Walker (Boca Black Box- Boca Raton)
Just checked the Boca Black Box- box office (bocablackbox.com) and goldstar.com (discount tickets)- and there are some really good seats still available for-this coming Saturday, October 12th's -7pm & 9pm shows! Trust Jeff Eats, Fletcher-Nelson-Walker are going to kill it…don't miss this show! By the way, this morning the Boca Black Box has a promo code: JOKESONYOU good for a 50% discount on tickets!!
Posted on April 12th, 2019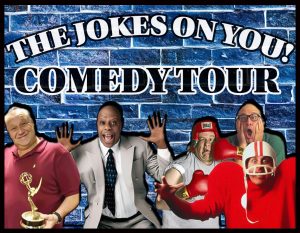 * The Joke's On You! Comedy Tour- Fletcher, Nelson, Walker.
Tickets just went on sale…
Three absolutely dynamite comedians!
Don't miss this show!
The Joke's On You! Comedy Tour- Fletcher, Nelson, Walker
Saturday, October 12th, 2019 (7pm & 9pm)
Boca Black Box
8221 Glades Road Suite #10,
Boca Raton, Florida 33434
Box Office: 483.9036
Tickets: bocablackbox.com check goldstar.com for discount tick
from bocablackbox.com
Announcing their comedy line-up, year six of the Joke's on You Comedy Tour will feature 'Living Legends'… Artie Fletcher, Jimmy J.J. Walker & Bob Nelson! With over 80 TV Credits combined, THIS IS GOING TO BE ONE HECK OF A SHOW!
Artie Fletcher
Artie is one of the Entertainment Industry's most talked-about "must-see" performers. No stranger to Film and Television, Commercials, Voice-overs, Print and Live Stand-up Comedy, Artie is taking the industry and Newstalk Radio waves by storm. Artie has been seen on Law and Order, Conan O'Brien, David Letterman and The Tonight Show just to name a few!
Bob Nelson
Watching a Bob Nelson live performance is like watching several different types of top comedians all rolled up into one. Characters like the lovable nerd Eppy Epperman, punchy boxer Jiffy Jeff and chicken rancher Wilby Stuckinson are as funny and memorable as any you will see in comedy today. A contemporary of Jerry Seinfeld and Jay Leno, Mr. Nelson's extraordinary talents have been refined by a career that has included multiple appearances on the Merv Griffin Show, the Tonight Show and David Letterman.
Jimmy "JJ" Walker
Spotted by the casting director for Norman Lear of "All in the Family" fame, Jimmie accepted a part in Lear's new urban-styled comedy series, "Good Times." The role of the broadly strutting, wisecracking J.J. Evans would launch him into television superstardom. "Dyn-o-mite!" was the phrase that made him famous nationwide. He was the first winner of the NAACP Image Award, and won a Golden Globe nomination for Best Supporting Actor in a Comedy Series. He appeared on "The Mac Davis Show," "Donny and Marie," "The John Davidson Show," "The Merv Griffin Show," "Dinah," "The Mike Douglas Show," "The Hollywood Squares," and the "Match Game."
The most unpredicatable, unscripted comedy mayhem you'll ever see…