Gilbert Gottfried (The Kelsey Theater- Lake Park)
* Gilbert Gottfried.
The legendary foul-mouthed controversial politically incorrect comedian's tickets just went on sale…
Jeff Eats and Mrs. Jeff Eats are gigantic fans!
Tickets: thekelseytheater.com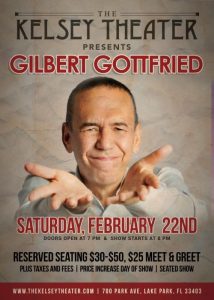 from thekelseytheater.com
Join us Saturday, February 22nd for Comedian Gilbert Gottfried at The Kelsey Theater. You may remember this legendary comedian from Saturday Night Live, Beverly Hills Cop, and the voice of our favorite parrot Iago in Disney's Aladdin. Don't miss this opportunity to see him live in our intimate venue. Tickets are $30-$45 for General Admission. VIP Seats (first 3 rows) are $50. Ticket prices go up the day of show. Meet & greet with Gilbert for $25, must be added to each ticket. You are now able to pick your individual seats, just click "View Seat Map" on the ticket page. Show is ages 18+, bar with ID. This show contains extremely vulgar language and themes, Viewer discretion is advised.
At the young age of 15, Gottfried began doing stand-up at open mike nights in New York City, after a few short years, became known around town as "the comedian's comedian." After spending several years mastering the art of stand-up comedy, producers of the legendary NBC late night comedy show Saturday Night Live became aware of Gottfried and, in 1980, hired him as a cast member. Gottfried's work in television soon led to roles in film. Most notable was his improvised scene as business manager Sidney Bernstein in the hit sequel "Beverly Hills Cop II," for which the New York Daily News said, "Gilbert Gottfried steals the picture with a single scene"
Gottfried has made numerous memorable appearances on Comedy Central Roasts and the Comedy Central series, "The Burn with Jeff Ross." Gottfried's "Fifty Shades of Grey" reading (College Humor) received over 5 million views on YouTube. Gilbert has been a guest on "The Tonight Show with Jay Leno," "The Late Show with Seth Meyers", "@Midnight with Chris Hardwick" and numerous appearances on "The Howard Stern Show." He also has had a recurring role on "Law and Order" SVU as TARU tech Leo Gerber. Stephen King on Gilbert Gottfried: "More than a national treasure, he's a secret weapon. If we had had Gilbert Gottfried in World War II, Hitler would have given up in 1942."