Three Hysterical Broads…Off Their Medication. (Boca Black Box- Boca Raton)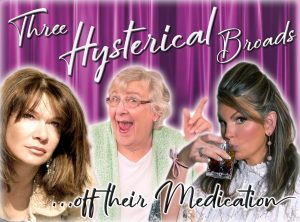 * Three Hysterical Broads…Off Their Medication.
Just picked-up 2 tickets to see Three Hysterical Broads…Off Their Medication.
If you wanna see three of America's funniest female stand-up comedians…
The Skinny:
Three Hysterical Broads…Off Their Medication
Saturday, October 26th, 2019 (7pm & 9pm)
Boca Black Box
8221 Glades Road Suite #10,
Boca Raton, Florida 33434
Box Office: 561.483.9036
Tickets: bocablackbox.com check goldstar.com for discount tickets
Trust Jeff Eats on this one, I'm thinking that both the 7pm and 9pm shows are gonna be SRO, so if you wanna go- I'd buy tickets- like right now!
Just a taste of what you can expect to see…
from bocablackbox.com
What happens when you put three of the most talented women in stand-up comedy together and then take away the one thing that helped each of them cope with kids, relationships, divorce, mortgages, life, etc.? You get Three Hysterical Broads Off Their Medication, a stand-up show that will give you an inside look at the comedic minds of three of the most hysterical women to ever hit the stage.
Vanessa Hollingshead
The moment Vanessa hits the stage, she hits her audience with her insatiable love of what she does. She'll talk with them and joke with them by telling stories from her life and through the lens of her incredibly larger than-life, poignant hysterical characters she's met along the way. By the end of Vanessa's show, her audience who was once full of strangers, she is able to turn into new best friends and extended family. While Vanessa's real family was out there busy getting high, Vanessa was out there busy getting laughs. Vanessa is an accomplished actor, performance artist, and writer with a TV pilot currently in the works called, Take My Life, Please!
Julia Scotti
Julia's high-octane machine gun delivery, combined with her hilarious, groundbreaking, and thought-provoking views on most everything, has ignited a buzz across the country. Julia was a quarter-finalist and fan favorite on season 11 of America's Got Talent NBC 2016 and a judge's favorite with Simon Cowell saying, "you genuinely made me laugh." Reminding us how to laugh, people of ALL ages and ALL persuasions just can't get enough of this 'Crazy Old Lady of comedy.' Her current CD Hello Boys…I'm Back! is still hot and climbing.
Lynne Koplitz
Born in New York, but raised in Florida, Lynne Koplitz never lost her Long Island bite. After graduating from Troy University in 1992 with a degree in Theatre Arts and receiving a masters in Education Language Arts, Lynne began following her passion into comedy. Since that day, she has experienced a whirlwind of success on both stage and television. Lynne became the first woman since Roseanne Barr to sign a development deal with legendary producer Tom Werner at Warner Brothers.