National Touring Headliner Comedian- Mitch Fatel (Boca Black Box- Boca Raton)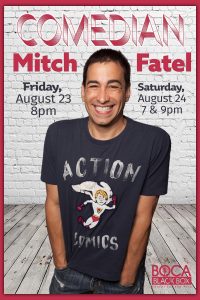 * National Touring Headliner Comedian- Mitch Fatel.
Just picked-up 2 tickets to see National Touring Headliner Comedian- Mitch Fatel tomorrow night, Friday, August, 23rd (8pm) at the Boca Black Box in Boca Raton.
Trust Jeff Eats on this one…Fatel is an absolutely brilliant comedian!
The Skinny:
National Touring Headliner Comedian- Mitch Fatel
Friday, August 23rd (8pm)
Saturday, August 24th (7pm & 9pm)
Boca Black Box
8221 Glades Road #10 Boca Raton, FL 33434
Phone: 561.483.9036
Box Office: bocablackbox.com goldstar.com (discount tickets)
from bocablackbox.com
Is that a sparkle in his eye or is he just confused? With his innocence and friendly demeanor, Mitch quickly engages the audience and then catches them off guard with a mixture of mischievous dialog and off color comments. While laughing at observations only Mitch can get away with, we are left wondering if he truly understands what he just said. We never really know.
Mitch has been showcasing his talent to rave reviews for 30 years now. His resume, too extensive to list in it's entirety includes 2 Comedy Central specials (one of which was voted #6 all time by viewers) and 3 best selling CD's. He has appeared on almost every Late Night Comedy Show and in 2006 he has taken home honors as the Best Comedian at the HBO Aspen Comedy Festival. In 2018 he is filming his next 1 hour special for release in early 2019 and he is currently co-host of the new PUNCH-lines Podcast (Punchlinespodcast.com) which studies and dissects the psychology and similarities of stand up comedy and mixed martial arts at the same time. He also has a son and his wife is very hot.