Burger King's Impossible Whopper!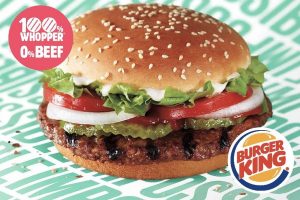 * Burger King's Impossible Whopper!
The Impossible Whopper went nationwide at all 7,200 Burger King locations in the US on August 8, 2019.
Like regular Whoppers, the Impossible Whopper contains all the classic fixings like tomatoes, crisp lettuce, pickles, and onion, but instead of a flame-grilled beef patty, the Impossible Whopper boasts a flame-grilled veggie patty, which is made with soy protein, potato protein, coconut oil, sunflower oil, and heme.
Personally, I wouldn't go near this burger with a 10 foot pole…
Anyway, if you are so inclined to give this delicious😛sounding burger a shot- you can check burgerking.com for locations/info.