Beer & Bingo Bash (Maggiano's Little Italy- Boca Raton)
* Beer & Bingo Bash.
Now you're talking- worthwhile charity, beer, real good Italian buffet, bingo…
Mrs. Jeff Eats just signed us up for the $50 "deal"…
————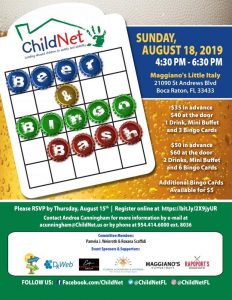 Beer & Bingo Bash
Join us for a fun evening of Beer & Bingo for a great cause!
$35 in advance
$40 at the door
1 Drink, Mini Buffet and 3 bingo cards
$50 in advance
$60 at the door
2 drinks, Mini Buffet and 6 bingo cards
Additional Bingo Cards available for $5 each
Please RSVP by Thursday, August 15 | Register online at https://bit.ly/2X9jyUR.
Contact Andrea Cunningham for more information by e-mail at acunningham@ChildNet.us or by phone at 954-414-4600 ext. 8036.
——————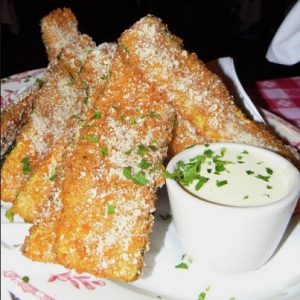 Jeff Eat's 7/24/08 "review"…
Maggiano's Little Italy (Boca Raton)
Posted on July 24th, 2008 · Boca Raton Italian
***** Maggiano's Little Italy, 21090 St. Andrews Boulevard, Boca Raton, Florida 33433 (561) 361-8244.
Let's start this review off by getting you to Maggiano's website at www.maggianos.com.
Maggiano's is a national chain of "up-scale-looking" Southern Italian Restaurants. The website will give you menu/pricing/locations…If I have read the "map" correctly, Maggiano's is currently in 22 states which includes 4 locations in Florida…Boca Raton, Jacksonville, Orlando and Tampa.
Maggiano's decor is as "handsome" as most of South Florida's "top-notch" Italian and steakhouse restaurants…the website has photos which will give you some idea as to what I am talking about.
Now let's talk food. Maggiano's menu is loaded with all kinds of appetizers, soups, salads, pastas, meat-veal-seafood-chicken entrees and desserts…sorry, no pizza. The food (now get this) is absolutely delicious. There are 2-ways that you can order…individual…or family style. Hopefully "individual" speaks for itself…Maggiano's has a "Family Style Lunch" and a "Family Style Dinner." Now stay with me…when you order "Family Style" the whole table picks various appetizers, pastas, entrees, desserts, etc., which are then shared and (here's the great part) the amount of food is all-you-can-eat. Trust me, Maggiano's has this Family Style-All-You-Can-Eat thing down to a science…it is basically a variation on the old Chinese proverb: 1 from column A, 2 from column B.
On my two outings to this joint, I "sampled"…fried zucchini, lasagna, chicken marsala, veal parmigiana, chicken cacciatore, shrimp oreganata…everything was absolutely delicious.
Now for the kicker…this joint makes a dessert called Apple Crostada that is absolutely fantastic…you can read the website for details as to how it is actually made… but for right now, "think" McDonald's "fried apple pie" covered in vanilla ice cream…by the way, McDonald's replaced the "fried apple pie" with "baked apple pie" in 1992. Anyway…this dessert is incredible and it alone is worth the price of the meal. One final thought…if you order "Family Style" you can have all of the Crostadas that you want.
Although Maggiano's is done-up as a fancy looking joint, tee shirt/shorts are just fine. Individual prices are no more than your favorite neighborhood "mom and pop" joint…"Family-Style" ordering is going to run you about 25 bucks a head.
Maggiano's is open 7 days a week for lunch and dinner. It is always jammed.
_____
Jeff Eats' 4/28/14 review…
Maggiano's Little Italy (Boca Raton, Jacksonville, Orlando, Tampa)
Posted on April 28th, 2014 · Boca Raton Deals Italian Jacksonville Orlando Tampa
* Maggiano's Little Italy.
Way back on a July 24, 2008 Jeff Eats told you about Maggiano's Little Italy- a national Italian chain -which for our purposes currently has 4-Florida locations. If you check that initial writeup- you'll find that Jeff Eats really enjoyed Maggiano's food/service/decor/prices. To be perfectly honest with you-in the ensuing years, maybe I ate there (Boca Raton) again 2-tops 3 times. Just so you know, no particular reason for only 2-3 visits in 6 years- just giving you the facts.
To make a long story short…
Earlier this evening, Jeff Eats, Mrs. Jeff Eats and a bunch of other folks- watched the Heat v. Bobcats game at a mutual neighbor's house… The neighbor did a little catered-thing and had food delivered from Boca's Maggiano's. Not gonna bore you with the details- but the salads, pastas, entrees, desserts were terrific- now, I know these were free eats, but trust Jeff Eats-free or no free, the stuff was real good.
Anyway,
This neighborhood outing got me thinking about Maggiano's…and low and behold- I found out that if you go to www.maggianos.com and sign up for its E-Club it sends you a $10 Welcome coupon, a $10 Birthday coupon, a $10 Anniversary coupon and periodically a bunch of other discount coupons.
The way Jeff Eats is thinking here, if I'm gonna eat at Maggiano's anyway, why shouldn't the money be in my pocket and not -the joint's pocket!
So… If this "couponing" stuff is your bag…go for it!