DISH OF THE WEEK (Sunday-7/28/19- Pete's Pizza- Daytona Beach)
***** DISH OF THE WEEK (Sunday-7/28/19- Pete's Pizza).
One of Jeff Eats' favorite menu items…
EGGPLANT PARMIGIANA SUB
($8.50)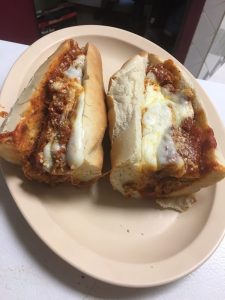 Pete's Pizza
1441 South Nova Road
Daytona Beach
(386) 253-3707
petespizzadaytona.com
Latest Review: 11/20/18
The last time I was there (5/19/19) I did a whole- eggplant parm sub which ran me- $8.50 (a half cost $6.50) and I gotta tell you this joint's food absolutely kills!
Posted on November 20th, 2018
***** Pete's Pizza, 1441 South Nova Road, Daytona Beach, Florida 32114, (386) 253-3707.
Got a real good pizza joint for you guys to checkout- Pete's Pizza in Daytona Beach.
Real simple tale to tell…
Yesterday, Jeff Eats and Mrs. Jeff Eats were up in Daytona Beach and around 2:25pm- we were craving- some pizza and some guy named Alphonse or maybe it was Mohammed (sorry, I don't really recall) working behind the counter in a Chevron Gas Station Mini-Mart recommended that we try Pete's Pizza a hole in the wall "mom & pop" red sauce Italian joint where you order at the counter/pickup at the counter, handful of tables, pizzas/ calzones/salads/ wings/ pastas/ hot & cold subs/ entrees menu, open Monday-Saturday 11am-11pm/Sunday 1pm-10pm, menu/prices at petespizzadaytona.com.
Let Jeff Eats wrap Pete's Pizza up for you guys by saying, Alphonse's call (or maybe it was Mohammed's call) was right on the money- with the New York Style Pizza (thin/crisp/sweet sauce/nice oil drip) and the Philly cheesesteak we threw in for good measure both being off the chart delicious!
For you guys who like a drop more "flesh"- on your Jeff Eats' tales, sorry- no can do, just dynamite- pepperoni cheese pizza and Philly cheesesteak- before the drive home to Boca!