National Touring Headliner Comedian- Michael "Wheels" Parise (Boca Black Box- Boca Raton)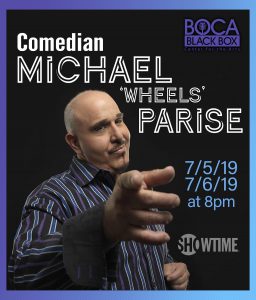 * National Touring Headliner Comedian- Michael "Wheels" Parise.
All I can tell you guys is that- Jeff Eats and Mrs. Jeff Eats have seen Michael "Wheels" Parise four times and each and every time the "light blue" national touring headliner comedian literally had us peeing our pants from laughing so hard! Trust Jeff Eats when I tell you- that Parise puts on a terrific show!
The Skinny:
National Touring Headliner Comedian- Michael "Wheels" Parise
Friday, July 5th, 2019 (8pm) & Saturday, July 6th, 2019 (8pm)
Boca Black Box
8221 Glades Road #10
Boca Raton,FL 33434
Box Office: (561) 483-9036
Tickets: bocablackbox.com check goldstar.com for discount tickets
from bocablackbox.com
MICHAEL PARISE IS ONE OF THE COUNTRY'S TOP HEADLINING COMEDIANS, HE SPENT A 1 YEAR RESIDENCE AT THE CAESAR'S RIO HOTEL AND CASINO, HIS SHOW "WHEELS LIVE" WAS WRITTEN UP AS THE BEST COMEDY SHOW IN VEGAS BY THE LAS VEGAS REVIEW JOURNAL. PARISE WAS THE LAST HEADLINER TO PERFORM AT THE FAMOUS RIVIERA COMEDY CLUB THE CLOSING WEEK WHERE HE TAPED HIS HIT CD, "DRIVING YOU CRAZY", AVAILABLE IN STORES AS WELL AS ITUNES.
STILL WORKING WITH ANDREW DICE CLAY IN LAS VEGAS AND ALSO HEADLINING THE LAS VEGAS STAGES ON HIS OWN, THE LAUGH FACTORY IN THE TROPICANA, AND THE HARD ROCK HOTEL AND CASINO ARE JUST A FEW OF THE PLACES IN LAS VEGAS WHERE YOU CAN CATCH HIM. PARISE IS CURRENTLY STARRING IN A SHOWTIMESPECIAL CALLED ANDREW DICE CLAY PRESENTS…THE BLUE SHOW, AIRING NOW.
PARISE JOINS THE CAST AS A GUEST STAR IN THE NEW SERIES, "DICE" AIRING ON SHOWTIME. DICE AND WHEELS STILL TO THIS DAY REMAIN BEST FRIENDS AS WELL AS A TEAM ON THE HIT PODCAST, "ROLLIN WITH DICE AND WHEELS" WHICH CLIMBED THE CHARTS TO #1 ON ITUNES, THE SHOW HAS 46 EPISODES OUT AND CAN STILL BE HEARD ON ITUNES AS WELL AS ROLLIN WITH DICE AND WHEELS OFFICIAL SITE PLUS NUMEROUS ONLINE STATIONS WITH DOWNLOADS EXCEEDING 5 MILLION WITH MILLIONS OF SUBSCRIBERS.
WHEN MICHAEL IS NOT ONSTAGE, YOU CAN CATCH HIM AT THE LAS VEGAS ATHLETIC CLUB SIX DAYS A WEEK AND HE CAN ALSO BE SEEN NATIONALLY AS A MOTIVATIONAL SPEAKER, TELLING HIS STORY OF HOW HE LOST 150 POUNDS AND IS GOING FROM FAT TO FIT.
UPDATE: MICHAEL RECENTLY WRAPPED A PILOT WITH NICK TURTURRO CALLED "OVER THE HILL" WHERE HE HAS A STARRING ROLL.