GetBack! Two of Us (Mizner Park Cultural Center- Boca Raton)
* GetBack!
I must be slipping…I thought I'd heard of every Beatles' tribute act in the business!
GetBack! Two of Us- sounds like a real good one!
Tickets just went on sale…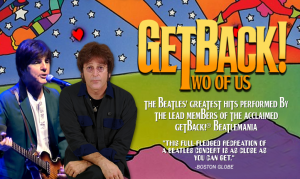 The Skinny:
GetBack! Two of Us
Sunday, April 26th, 2020 (2pm)
Mizner Park Cultural Center
201 Plaza Real
Boca Raton, Florida 33432
Box Office: (844)-672-2849
Tickets: miznerparkculturalcenter.com
from miznerparkculturalcenter.com
This full-fledged recreation of a Beatles concert is as close as you can get!" -Boston Globe
Don't miss The Beatles' greatest hits performed by the lead members of the acclaimed GetBack!® Beatlemania, live at the Mizner Park Cultural Center!
The GetBack!® troupe, assembled from the London and Broadway revue Beatlemania, has endeared audiences since 1980 as one of the longest-running Beatles tribute shows in the world, due to its uncanny mimicry and infectious energy.
The cast members of GetBack!® channel the famed mop-tops with UNMATCHED pinpoint accuracy that thrills fans worldwide.
With accurate vintage instruments and dazzling stage visuals, GetBack!® floods two hours with over 40 classic songs, changing costumes as the show travels through the lighthearted British Invasion years to the bittersweet rooftop ending of Let It Be, with several stops along the way.
GetBack!® has so perfected "the live Beatles concert that never was," said the Boston Globe.
GetBack!® Two of Us faithfully recreates the music and charisma of the most beloved singer-songwriters of our time. You will believe John and Paul have come together!